BABIES
Film "Healed" Angelina After Mother's Death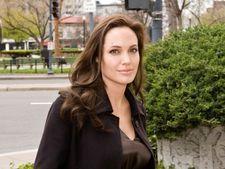 As a mother, playing a woman whose child is kidnapped is hard enough, but for Angelina Jolie, the said role in her new drama The Exchange was doubly poignant.
"It's personal, but I lost my mother a few months before the film," the actress says in a press conference at the Cannes Film Festival, where the movie is premiering. "And to me, my character Christine's very much like my mother. My mother was very passive in many ways, and very, very sweet. But when it came to her children, she was a lion. But as a woman — very shy, almost of her own voice."
Article continues below advertisement
Still reeling from the death of her mother, Marcheline Bertrand, who passed away from ovarian cancer in January 2007, Angelina says diving into the emotional roller coaster that is the film provided her closure.
"In many ways, Christine reminded me of my mom, and it was a way to kind of revisit my mother after passing and spend time with her," she adds. "It was very nice, and in that way, very healing and interesting for me."
The film, set in the 1920s, is based on a true story and tells the tale of Christine Collins, a woman who realizes the son returned to her after a kidnapping is not hers. With four children at home and on the way, Angelina "can't imagine anything worse" than that happening as a parent.
"To lose a child, I can't imagine anything worse, especially not knowing the fate of that child," she says. "So much of it is being a mother and imagining if this was happening to me, my pain and my frustration."
Behind the scenes, things were a little less tense. The Exchange pairs the 32-year-old actress with Clint Eastwood for the first time. The four-time Oscar winner, who Monday evening, directed the mystery thriller, and working with him was unlike anything else, Angelina says.
"It was amazing," she says. "I was like anybody would be in this room. I was nervous the first day. He's really just a great leader, just a great all-round leader. Not just because as a director he is decisive and clear and dedicated to getting the story out. But every single member of the crew he respects and gives them his time. Every single person feels valued. Everybody brings their best. I've never seen a director command so much respect. Not because he's Clint Eastwood, but because he is so gracious and connected to every single person. It was a pleasure, and I'm sure every single person on the crew would say the same."