BABIES
Heidi Klum: Seal Spilled Early!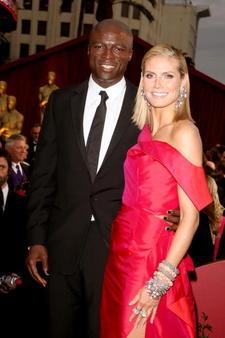 Uh oh, sounds like Seal could be in trouble with his wife! Heidi Klum admits that she wasn't quite prepared to let the public in on the couples' baby news when her hubby spilled the beans.
I'm still in the very beginning... It kind of came out faster than I wanted it to," she reveals to Extra. "My husband kind of surprised me and everybody at one of his concerts. He was just on tour so he kind of told everybody. He's allowed to obviously. We're very excited."
Article continues below advertisement
So is Heidi feeling the strain of her pregnancy yet? Not so much from the little one inside her, she admits.
"I do feel full of energy. I do go to bed very early. Nothing to do with the pregnancy now," she explains. "It has to do with having three small children at home. They do exhaust you. I run after them and I want to entertain them all day. I drive them to school. Sometimes my life is more in the car than anywhere else."
That exhaustion means that the couple will most likely not add to their family after this next arrival, Heidi admits.
"That's pretty much it. I'm very happy with four," she says. "We're both happy with four. With four I think we're complete."