BABIES
Tom Cruise Opens Up to Oprah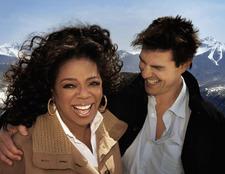 Nearly three years after the couch-jumping seen around the world, Tom Cruise and Oprah Winfrey reunited for a sit-down interview on his sofa – and this time, it really was a sit-down.
"I just felt that way and I feel that way about Katie Holmes," the actor says in the first of a two-part interview, reflecting on the now notorious moment that's written its own chapter in pop culture history. "That's just how I felt…I can't even articulate. That feeling and the connection and just who she is and what she means to me. It was just very special."
Article continues below advertisement
The 45-year-old was far more articulate about other things in the summer of 2005, most notably his stance on anti-depressants and post-partum depression. Tom had chastised former co-star Brooke Shields for taking drugs to treat her blues and infamously called Today show host Matt Lauer "glib" about prescription drugs in the process. Looking back, the star expresses remorse, noting that the comments "came out wrong."
"What I regret is even discussing Brooke in any way," Tom says. "I apologized to her. As a result, we're actually even closer friends. I went back and I looked at the Matt Lauer interview and I thought, 'Okay, I remember at that time, I was feeling pressed in the interview with Matt Lauer.' I mean, for me, my issue was really about child drugging. It's not like it is today. People kind of really openly are talking about this."
Article continues below advertisement
Now, Tom wants to make it clear that he's not outright against prescription medication and won't judge others for using them.
"I personally don't. I personally feel that people -- it's their decision, you know?" he says. "When you look at something, it's an individual's right to make a decision on what they're going to do with their life."
And how's his life going? Just blissful. Inviting Oprah up to his palatial Telluride, Colo. home to chat -- in honor of the 25th anniversary of Risky Business -- Tom showed off the life he has created with Katie and their 2-year-old daughter, Suri, who has her own office in the abode. The Telluride digs is where the family retreated to following Suri's April 18, 2006 birth.
"She really is just magic. When Suri was born, we all just came up here," he says. "We just -- we had Kate's family and my family, and it was just -- it was moments of real joy. We just were on Suri time. It was like, "When you're up, we 're up. When you're asleep...' We hung out in different rooms, and we'd go for walks, and the family came up and we were horseback riding and we have barbecues and we just all kind of hung out here."
As for the nagging rumors about the veracity of his relationship with Katie, 29, Tom says the two don't pay them any attention.
"They're laughable to me. I don't know what to say. That stuff's, like, laughable," he says. "You just know they're trying to sell it and spin it. So there's certain things you go, 'Okay, come on,' you know.'"
Part two of the interview will air on Oprah on Monday.