COUPLES
10 Most Unrealistic Wedding Moments in TV and Movies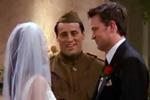 The Big Wedding hits theaters today, and the film is going to be huge. Amanda Seyfriend, Katherine Heigl, Topher Grace, Diane Keaton, Robert De Niro and more major stars are in it, which is part of the reason we're excited. But we can't help but think that weddings—in TV and movies—are pretty much always so unrealistic. You too?
OK! Exclusive: How to Be a Kick-Ass Bridesmaid
Here's a look at our 10 favorite pop culture weddings that would never happen in real life, from Friends to Bridesmaids to It Takes Two. So keep reading and don't forget to tell us your favorite movie wedding moments in the comments below!
Article continues below advertisement
It Takes Two. All the best movie wedding scenes involve someone else trying to stop the marriage from happening, but would that really happen in real life like it did in this movie? No. No it would not.
Bride Wars. The entire premise of this film, starring Anne Hathaway and Kate Hudson, is about two best friends who end up having their dream weddings on the same date at the same place because neither one of them would cave and let the other one have it. I mean...
Boy Meets World. Here, Shawn and Cory fight during his wedding to Topanga. Like, literally during the ceremony. Get a room, guys.
Sex and the City: In the SATC movie, Big and Carrie are all set to get hitched at the New York Public Library. That is until he calls her and tells her that he can't go through with it because he wanted it to be low key and just the two of them. But of course, Carrie didn't get the message because Charlotte's daughter had Carrie's phone all day. Realistic.
Article continues below advertisement
Girls: The most unrealistic thing about Jessa's wedding was everything. These two were so terrible together and it should have never even happened. BTW, there's curses in this video. NSFW.
Bridesmaids: So many things were unrealistic about this bridal planning in general, but at the actual wedding? The bride's favorite band, Wilson Phillips peformed. Unless you're like, Beyonce, this just doesn't happen.
Friends: There were lots of weddings on Friends (half of which were Ross'), but everything about Chandler's and Monica's was not very likely. Sure, grooms run away all the time, but not very often does the person who marries you show up late and in a Civil War costume. Just sayin'.
Sweet Home Alabama: Just as Reese Witherspoon's character is about to get married, she finds out she's still married—to her ex husband. So she signs the papers, wedding dress and all, right in the middle of her ceremony. Classy.
The Office: The worst boss ever turns into the worst wedding attendant ever at Phyllis' wedding. Just watch and cringe: