COUPLES
Is Anna Duggar Faking Her Relationship With Josh Duggar?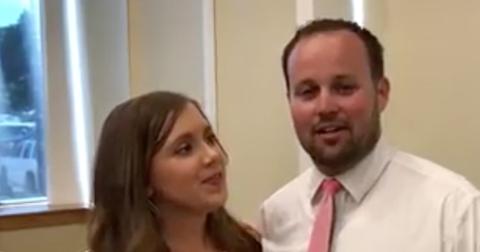 View all comments
Anna Duggar might be saying one thing, but her body is saying another, according to Body Language Expert Dr. Lillian Glass, who reviewed images and videos of Anna and her husband, Josh Duggar. In an interview with RadarOnline.com, Dr. Glass revealed that the mom-of-five's body language tells a completely different story than what she's been saying.
In a photo from their recent 10-year engagement anniversary shoot,  Anna called her and Josh's 10 years together "a wonderful adventure." However, Dr. Glass said Anna appears unhappy in her marriage.
Article continues below advertisement
Last week, Anna captioned a smiling photo of her and Josh with a sweet message in honor of their special day. "Josh and I celebrated our 10-year engagement anniversary," she wrote. "The past 10 years have been a wonderful adventure."
While many first drew attention to the fact that Anna still called the time with Josh a "wonderful time" in spite of his past molestation and sex scandals, Dr. Glass said all eyes should have been on her body language.
"She has a tight smile," Dr. Glass told Radar of the photo. "Her eyes are not smiling. She's gritting her teeth. It's very contrived."
Dr. Glass also broke down Josh and Anna's recent congratulatory video to newlyweds Josiah and Lauren Duggar.
"It's so phony," she said of the video. "This is all for show. She's looking at him, but she's leaning away. Anyone with eyes can see there is no love there."
In speaking about a second video, where Josh and Anna are congratulating Jinger and Jeremy Vuolo on their pregnancy, Dr. Glass said, "It's rehearsed… This is what she's told to do. He has his hands on her to guide her to do it right. He has both hands on her shoulders, like a control thing."
She added, "She's uncomfortable. She's rocking back and forth. It's so phony and contrived."
What do you think of Dr. Glass' observations? Sound off in the comments!