COUPLES
'Very Happy' Gwen Stefani And Blake Shelton Move Into 'Warm And Inviting' L.A. 'Family Home'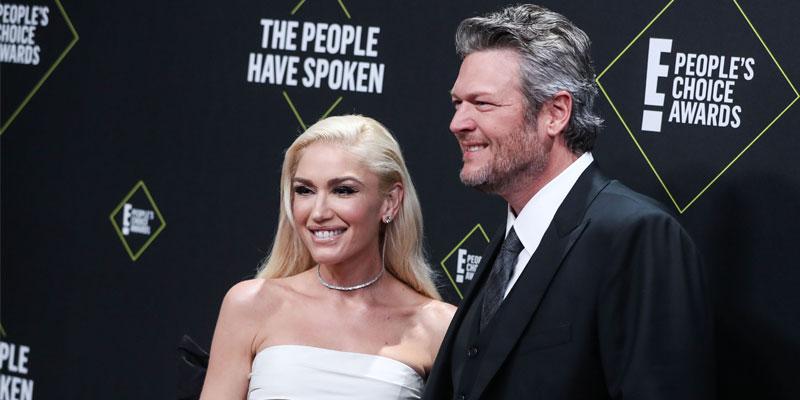 Welcome home! Gwen Stefani and Blake Shelton have happily moved from the country singer's Oklahoma estate into their new Los Angeles mansion together, which they bought for $13.3 million in October 2019, Us Weekly reported.
The musical artists' lavish home is "very warm and inviting," and there is "a lot of space for the boys to tumble around and get dirty," a source revealed.
"They are very happy to be settled at last in their family home," the insider continued. "Gwen wanted to be moved in for the start of the school year, even though the kids are doing school at home because of COVID-19."
Article continues below advertisement
GWEN STEFANI'S SON KINGSTON SLAMS COUNTRY MUSIC AMID HER RELATIONSHIP WITH BLAKE SHELTON
The couple's California abode — which they will also share with the blonde beauty's three sons, Kingston, 14, Zuma, 12, and Apollo, 6 — will have plenty of space for everyone to coincide. "Gwen has a glam closet any woman would love to have," the insider explained. "And Blake's closet isn't so shabby either."
The pair — who has been dating since 2015 after they met on The Voice — is looking forward to taking these next steps together. "They are truly happy as a family and it's the new beginning Gwen needed," the source shared.
Stefani, 50, and Shelton, 44, both split from their previous partners in 2015 — the 'Boys 'Round Here' crooner divorced country star Miranda Lambert, while the mom of three split from Gavin Rossdale after 20 years.
GWEN STEFANI & BLAKE SHELTON CELEBRATE HER SON APOLLO'S BIRTHDAY WITH AN ADORABLE TRIBUTE
Recently, the A-listers had been quarantining in Oklahoma amid the ongoing coronavirus pandemic, and it seems like they've been soaking up every minute together. "The simple pleasure of being together in one place for an extended period of time has been a real gift," Shelton told PEOPLE in July. "We cook, we clean, we ride four-wheelers and we just enjoy being with each other and with family."
Article continues below advertisement
"An Okie boy and a California girl look on paper like an unlikely match, but what matters is she's a great human being," he gushed about Stefani. "She is the most understanding, kind-hearted person I've ever met and I learn something from her every day."
GWEN STEFANI DAZZLES IN PRE-TAPING FOR ROCKEFELLER CENTER TREE-LIGHTING CEREMONY
So, will the duo walk down the aisle at some point? Potentially! According to Us Weekly, the couple may have "to move things back till the fall" due to COVID-19 restrictions. "Gwen knows she is blessed and wants to have the wedding as soon as social distancing guidelines are lifted."
With a new family home and wedding bells in the air, we look forward to watching Stefani and Shelton's journey continue!