COUPLES
Pink Talks About Reuniting With Carey Hart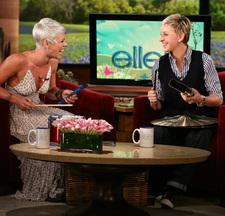 When pop star Pink and husband Carey Hart separated, the singer funnelled the bad feelings about the split into her music. And now that the two have decided to patch their relationship up, those spite-filled tunes make for some hilariously awkward moments for the couple.
"It's funny now," Pink tells Ellen DeGeneres on Friday's Ellen DeGeneres show. "Because he's in the audience; so when I sing 'he's a tool'...Now that's my favorite line. Hi Honey, that's you!"
Article continues below advertisement
Pink also talked briefly about the couple's plans to reaffirm their union, saying they don't need to walk down the aisle again since she and Carey never officially divorced, but that they're not ruling out the idea of some sort of ceremony. "I love a party!" she tells Ellen.
Tune in to The Ellen DeGeneres show on Friday to check out the entire interview.