NEWS
5 Things You Need to Know About Brooklyn Nine-Nine's Second Season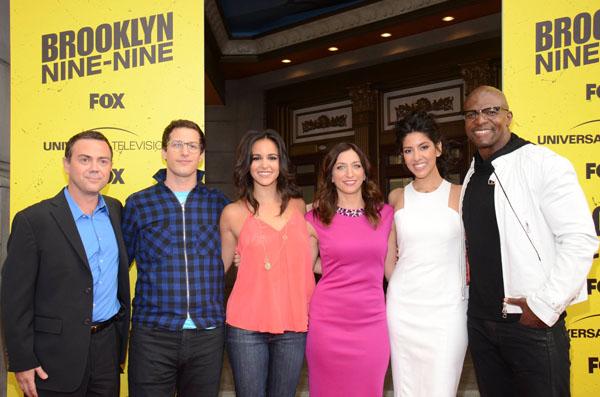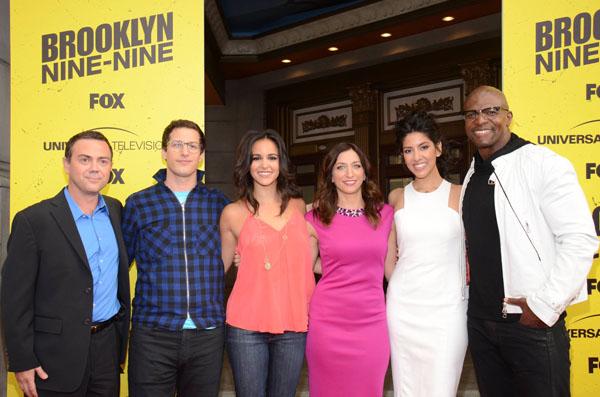 Despite being snubbed by the Emmys this year (seriously, what is that all about?), Brooklyn Nine-Nine is poised to deliver a hilarious second season this fall. The cast and producers congregated on the FOX sitcom's Studio City, Calif. set to field TV critics' burning questions and show off their cool digs (I may or may not have sat at Jake Peralta's desk in the precinct. Okay, I did.).
OK! News: 12 Crazy Things to Expect From Teen Mom 2 This Season
Article continues below advertisement
Here are five things I learned from today's Brooklyn pow wow:
• Jake's undercover op from season one's finale will be a factor in season two.
"As you know, we set up a little bit of a cliffhanger at the end of last season where Jake goes undercover after having professed his feelings towards Amy," says co-creator/executive producer Dan Goor. "And, also, we had Charles and Gina end up in bed together, and so I will say that those facts play in the premiere in the early part of the season, but I hesitate to give up anything that would be a cliffhanger."
• The premiere won't pick up at the exact moment the finale ended.
"There is a time jump," says Dan, while co-creator/executive producer Mike Schur adds, "It does not pick up right where we left off."
OK! News: How Many Driving Tickets Did Kylie Jenner Get in One Day?
• The show is in no rush to get Jake and Amy together.
"We were, like, 'All right. Here are the two characters we have. Here's the way that they relate to each other,'" says Mike. It's a natural, given their personality types and the fact that their desks face each other, that there might be some kind of romantic intrigue at some point, and we operate from that place instead of, like, we have this big master plan. As stories suggest themselves we follow those stories. We wouldn't have done the cliffhanger that we did at the end of season one if we had no intention of following that story into season two and perhaps beyond, but it's not going to be the main focus of the show."
MORE ON:
Brooklyn Nine-Nine
Article continues below advertisement
• Andy Samberg isn't worried his character maturing will make him less funny.
"I think that for all my favorite shows, comedy or otherwise, you do watch your characters grow," says Andy. "And I think part of the joy of, for me, performing it last season was that Jake does mature slightly and does grow up a little due to circumstance, which, I think, everyone in this room, kind of, can relate to. But, at the core, he's just a silly person and has that sort of zest for the job and for his life and sort of screwing around with the people that he's near. So I think even if he does mature, I don't see it as a direct conflict with the tone of what hopefully is making him funny."
OK! News: How Much is Mark Wahlberg Worth? A Lot.
• The cast loves the big ensemble scenes (think the Thanksgiving episode) so hopefully there will be more.
"Chelsea (Peretti) and I were just talking about that yesterday, how nice it was to bond on that episode because we all got to hang out and shoot, especially around that disgusting turkey that got those flies around it by the end," says series star Stephanie Beatriz. "It's really nice to be in a scene with a lot of us all together. It becomes very soothing because I'm, like, 'Oh, right. I belong here with these people. Right. Right. They are my friends.'"
What was your favorite episode of Brooklyn Nine-Nine in season one? Tell us in the comments or tweet @OKMagazine.