HEALTH
Nikki Bella Debuts 'Raw And Real' Postpartum Body After Giving Birth: 'This Was Really Hard To Do'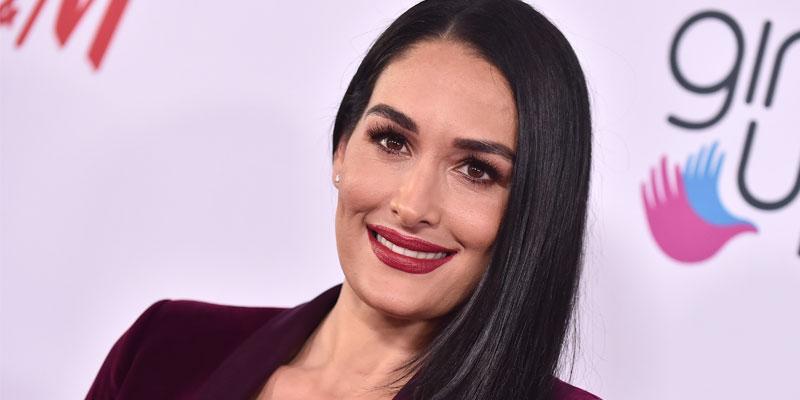 Honesty hour! New mama Nikki Bella took to Instagram to show off her postpartum body — just five weeks after she gave birth to her son, Matteo, whom she shares with fiancé Artem Chigvintsev. "This was really hard to do," the 36-year-old began via her Instagram Stories on Monday, September 7. "But I felt like it was the right thing to do because I feel like sometimes on social media and with people sometimes in the spotlight, you just truly don't showcase how hard postpartum can be and the journey of getting your body back."
Article continues below advertisement
"So, I want to bring you all along in the realest and rawest way possible so here I am," she continued. "I am 18 pounds away from my pre-pregnancy weight, and I have to say, I think that is probably — I mean, I am five weeks postpartum, so maybe not all of those pounds are fun but majority are for sure. I want to blame COVID-19 and being in Arizona with a lot of heat, I didn't get to work out like I used to, but no."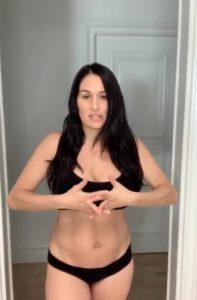 The brunette beauty — who flaunted her physique in black panties and a bra — admitted she ate "pizza quite a bit towards the end" of her pregnancy in addition to "baked goods."
HERE'S WHY NIKKI BELLA DOESN'T WANT TO WEAR HER ENGAGEMENT RING FROM FIANCÉ ARTEM CHIGVINTSEV
"I would just use pregnancy as an excuse a lot," she said. "But I have to take full accountability, so I am now on the journey to losing 18 pounds but in the most healthiest way possible because breastfeeding, obviously, and giving my son the most amazing nutrition is number one. So, there is going to be no crash diets, there is going to be no starving myself, it's going to be bringing workouts back in and healthy nutrition, which I have been doing."
Article continues below advertisement
The former wrestler admitted she is going to allow herself a cheat meal "here and there" because it is "normal" to do so and empathized with mothers over the struggles of seeing your body change completely. "I feel you. And we are exhausted on top of it. So, it's not like we're getting our beauty sleep. I wish!"
The E! star couldn't help but give her twin sister, Brie Bella — who welcomed son Buddy a day after Nikki — a shout-out in the clip, explaining that she is "always looking good" despite having two children. "I try to copy Brie, and yeah, our mom lives are a bit different," she shared. "She has two kids and I have one."
MORE ON:
Artem Chigvintsev
WATCH! NIKKI BELLA & BRIE BELLA REVEAL THE SHOCKING DMS THEY RECEIVE ON INSTAGRAM
The TV personality also confessed that her 360-turn in the video — which showed off her entire body — was the "scariest turn of her life."
However, Nikki couldn't be happier with her little tot. "It's worth all the curves, all the changes, the hard work to get my body back in shape because I have the most amazing little boy ever!" she gushed. "Matteo is way worth it, and I just want to be there for all of you moms."
We love how fearless Nikki is. Go, girl!