STYLE
Travis London's Healthy Chic Eat of the Week!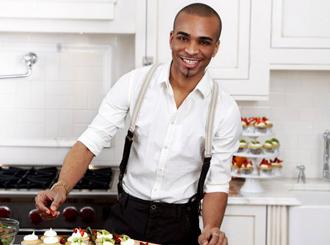 Travis London is all about eating and living well — the healthy and chic way — and every week, he shares tips and recipes right here on OKmagazine.com. This week, Travis shares his recipe for Pasta with Butternut Squash Sauce.
"Keep your New Year's resolution to stay healthy with my Satisfyingly Fresh Pasta with Butternut Squash Parmesan Sauce!" Travis tells OK!. "Winter squashes are a very good source of Vitamin C and B1, folic acid, pantothenic acid, potassium and dietary fiber. And they have been shown to protect against lung cancer and heart disease. 2012 is all about a healthier new you, the healthy chic way!"
Article continues below advertisement
TRAVIS LONDON'S HEALTHY CHIC EAT OF THE WEEK — LOW CALORIE CHEESECAKE
Pasta with Butternut Squash Sauce
Serves 4
1 large butternut squash, half lengthwise, seeds scooped out
8 oz. whole wheat pasta
1 tablespoon olive oil
1/2 cup chopped shallots
1/2 cup low fat half and half
1/2 cup of freshly grated low fat Parmesan cheese
1/8 teaspoon grated nutmeg
1 tablespoon chopped sage
Water or vegetable broth as needed to thin sauce, about 1 cup
2 teaspoons lemon juice
Salt and pepper to taste
TRAVIS LONDON'S HEALTHY CHIC EAT OF THE WEEK — THAI CURRIED BUTTERNUT SQUASH & APPLE SOUP
Directions
1. Preheat oven to 400F
2. Line a sheet tray with foil and lightly grease with olive oil. Season squash with salt and pepper and place cut side down on tray. Place in oven and roast until easily pierced with a knife, 35-40 minutes. When done, allow to cool on a wire rack for 10 minutes. Once squash has cooled, scoop the flesh with a fork from the skin and puree in a blender.
Article continues below advertisement
3. Cook pasta according to package instructions.
4. Over medium-high heat, heat olive oil in a large skillet. Add shallots and saute until translucent. Add squash puree and continue to cook for one minute.
5. Using a whisk, whisk in half and half (whisking will avoid lumps). Once incorporated, whisk in grated Parmesan, nutmeg and sage.
6. Add water or broth to thin sauce to liking. Take off heat and add lemon juice and season with salt and pepper. Serve over pasta immediately. Chic Tip: For a colorful presentation, sprinkle chopped parsley over each serving.