LIVING
'It Was Very Hard' — Teddi Mellencamp Reveals The Emotional Moment That Inspired Her Weight Loss Journey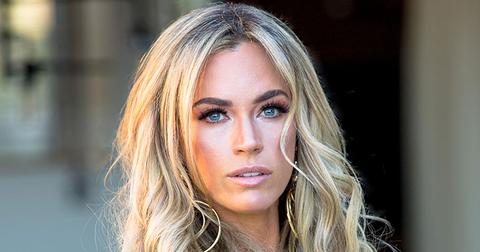 Nov. 5 2018, Updated 5:23 p.m. ET
View all comments
Teddi Mellencamp has become one of the most beloved cast members on Bravo's The Real Housewives of Beverly Hills, so much so that fans voted her "Rookie of the Year" at the 2018 Real Housewives Awards recently.
Not only is Teddi a fun and charismatic reality star but she's also a huge fitness enthusiast who has helped many people lose weight and reach their goals through her program called ALL IN by Teddi. Her Instagram account is chock-full of true life stories from people who have used her workout methods and succeeded, something that the mother-of-two clearly takes pride in as she's also been very vocal about her own weight loss journey in the past.
Article continues below advertisement
Now she's taken her life in the fitness world to a whole other level by releasing her first ever workout video called ALL IN by Teddi 30 Minute Cardio Workout. She celebrated this feat with some of her RHOBH costars last week, where her happiness over her big accomplishment could be seen all over her face.
Teddi chatted with OK! exclusively about why she decided to do the workout video in the first place, if she has any favorite clients that she's helped along the way and some dish about RHOBH. Take a look.
What was the driving force behind doing this video?
I wanted to give everybody an option to do these workouts no matter where they live. Whether it's in your living room, on the go or traveling… whatever works for you.
What inspired your weight loss journey?
I knew I was a good mom and a good wife but I always wanted to feel my very best. I wanted to be present and when I wasn't feeling good about myself it was very hard to be in the moment.
Article continues below advertisement
You've had some pretty big clients use your workout program, notably Tori Spelling. Is there one that stands out more than the others?
At this point we've had thousands and thousands of clients, I can't say one stands out more than anyone else. Every client that goes through the program has a major triumph. You start requiring more for yourself and those around you.
I know a bunch of your fellow RHOBH costars were there for your workout video launch the other day. Can you tell us a little more about that?
I can't talk anything Housewives but I know my friends were there to support me!
What do you recommend to someone who is just starting out on their own weight loss journey?
Start small, you don't have to make a huge change at all. For instance, start going on a walk every day of the week for 20 minutes each time. Whether you are avid or just starting, my husband Edwin shows the high intensity options in the workout video and I show the low intensity ones so you can have fun with it on your journey to reaching your fitness goal.
Anything you can say about the upcoming RHOBH season?
It's a lot.
For more information on ALL IN by Teddi, please check out her official website here.