NEWS
10 Things We Got at Justin Timberlake's NYC Show And 10 Things We Need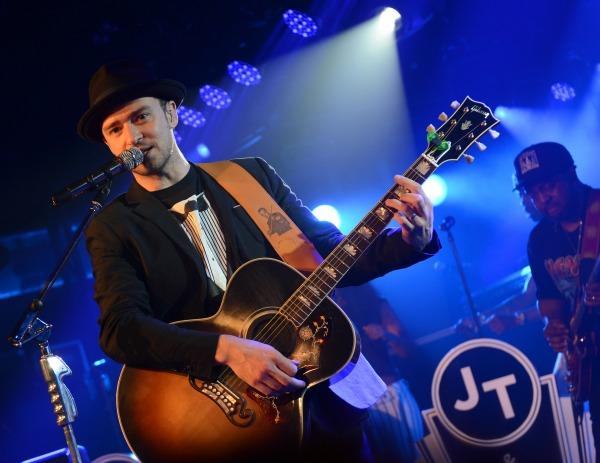 Last night was Justin Timberlake's first show in New York in what seems like forever. So he was ready to bring it on stage and I can only speak for myself, but I had my dancing shoes on.
He's performed small shows in New Orleans, Los Angeles and London, debuting new songs from The 20/20 Experience (Part 1) but now it was NYC's turn. It was a super fun, sweaty evening presented by Mastercard, and while we are so happy to have JT back on stage and not just on screen, there's still a few things we need. So I present to you, 10 things we got at the Justin Timberlake concert… and 10 things we need.
Article continues below advertisement
1. Got: The chance to do a lot of dancing.
Need: Deodorant.
Justin didn't shy away from the dance tunes which is great. Not so great? It was HOT up in Roseland Ballroom, and people were already squished and sweaty by the time he hit the stage at 8:30 p.m. Being in such close quarters makes you get to know people REAL well in a short amount of time. I can't imagine anyone going to a Justin Timberlake concert and not putting on a few swipes of deodorant ahead of time? I know I put on a couple extra swipes in preparation for the dance party. Also in a room like that when you're closer than shoulder to shoulder, please be mindful of all grooming. Wear a clean shirt, keep your hair to yourself—preferably in a hair tie so that you're not flipping it in everyone's face maybe? And if arm shaving is your thing please give yourself a quick brush up before heading out to an event where you'll literally be rubbing elbows and forearms with the people around you. We don't want that prickly mess!
OK! News: Justin Timberlake's new album is right around the corner
2. Got: Justin sounding amazing.
Need: More dancing.
Seriously that voice. So smooth. The band? Incredible. The Tennessee Kids were having the best time and you could hear it coming through those instruments. But Justin plays another instrument called his body. He knows how to play it and he plays it so well! We got a little bit of sexy movement out of him and hey, I'll take it. But let's get a little choreography up in here too!
Article continues below advertisement
3. Got: Timbaland
Need: Pharrell
Timbaland, the man responsible for producing the entire 20/20 Experience joined Justin on stage for "SexyBack" as the last song. And where would we be without that man, and in particular that song? Lost and unsexy, that's where. But seeing Robin Thicke's video for "Blurred Lines" just makes me wish for another JT and Pharrell collabo. Maybe for 20/20 Part 2?
4. Got: FutureSex/LoveSounds JAMS.
Need: More dancing, people!
Guys! Justin played "LoveStoned" and "FutureSex/LoveSounds"! Two of the greatest songs off of his last album. Sure, it was way back in 2006 but it is arguably his best album to date. I know many people in attendance won't agree with me because they lost their minds when he played his latest single "Mirrors" but come on. Do me a favor at at least dance when he plays some of the more "old-school" songs so that we encourage him to keep doing so. Yes, "Pusher Love Girl" and "That Girl" sounded awesome but they're new so we'll be hearing them for years to come. In the future, I will refuse to leave a JT concert that does not include "SexyBack" in the set list. Also, these are two of the most fun, sexy songs and people seemed to be just standing there? How is that possible? I couldn't control my body. The fact that he opened the show with his first solo hit "Like I Love You" almost blew my mind. One song in! Luckily, I had braced myself by the time "Cry Me A River" started a few songs later.
Article continues below advertisement
5. Got: "Suit and Tie"
Need: Hoodie and jeans.
Justin wore a suit and tie the entire time, cummerbund and all. Not sure if I ever really saw the bow tie tied around his neck but it was there. That's great Justin. I know you're doing the whole dressed up, straight hair thing with this album. But bro, throw on a fun pair of sneakers, some William Rast jeans and a hoodie. Let's loosen it up a little and party. It can't be comfortable spending 90 min in a suit getting your performance on. It's hot (we could tell by your drenched white shirt clinging to your back, hot!) and I bet it restricts the dance moves which is why you held out on us. Put on some sweats if that's what it takes to get your body moving!
Watch: Justin gushes about Jessica
6. Got: "Let the Groove Get In"
Need: "Don't Hold the Wall"
Oh man. I was very thankful for the "Let The Groove Get In" performance. Since I saw him perform it on Late Night with Jimmy Fallon, I knew it would be a show highlight. But "Don't Hold The Wall" is so very clearly my favorite song on the new album. Sexy, sneaky and funky. Let's make sure you throw that one into the mix for the summer tour with Jay-Z.
Article continues below advertisement
7. Got: INXS and The Jacksons.
Need: Frank Ocean
I know I'm gonna kick myself for saying this. Because let's be clear: his covers of "I Need You Tonight" and "Shake Your Body" were so great and fun and awesome to hear. But I want to know JT is listening to the same things I am right now (um, besides his own album). Just throwing it out there: how funny would it be to hear him sing a Justin Bieber song? I know he's taking himself all seriously lately but I wouldn't be mad about it.
8. Got: Jessica Biel dancing her butt off.
Need: Just that.
Look, it's hard when your longtime crush finds the actual love of his life. It looks like Justin and Jessica had a beautiful, perfect, expensive Italian wedding and I wish them the best. Really! On behalf of millions of JT fans around the world we just want to know he made the right decision. And nothing confirms that more than your wife rocking out HARD. I was super psyched to see Jessica dancing and singing from the VIP section just as wildly as I was in the middle of sweaty people.
Article continues below advertisement
OK! News: OMG Blue Ivy on stage with Beyonce!
9. Got: An amazing show.
Need: You all to put your phones away.
Seriously, this was a high-energy, jam-packed with jams show! What are you all doing with your phones out? Enjoy the memories in your mind! You are one of only a handful of people in this room getting a 20/20 Experience with Justin. Also, please put your arms down. I mean, keep them up if they are phoneless. But I know they are tired of holding your phone up trying to get a super blurry pic or recording of a song you can't even hear. Just be here, dance, sing and scream for JT.
At one point Justin told the crowd "You're at about an 8.5 right now" and I think he was being generous. I was disappointed in the amount of movement on older songs like "Rock Your Body" or "Summer Love". 20/20 is great but we have at least another year of hearing those songs, let's celebrate his past work that got him to this point!
And yes, this show is dripping with celebs. Andy Samberg, Olivia Wilde and Jason Sudeikis, Brooke Shields, Uma Thurman and Julianne Hough are in the house. But they aren't on stage. Let's give the attention to the man who is. Plus, your Instagram friends really aren't dying for a blurry pic of any of them.
Article continues below advertisement
This is just a gripe in general. If you want to check Facebook, seriously go stand at the back of the venue. No need to be obstructing the view or butt-shaking room of someone who is here to be here.
And I firmly believe any and all boyband-related shows are an opportunity to bond with your girl pals. Leave the boyfriend at home. I know, JT is every man's man crush, but celebrate sharing a crush with your girl friends. They are the ones that will jump around like teenagers with you. If your boyfriend is just gonna stand there like a statue, leave him at home.
Photos: The hottest celeb pics of the day
And finally:
10. Got: To see JT on stage.
Need: It to not be another 6 years.
The best moment of the show, and yes it is hard to choose just one, is when Justin himself emerged on the stage. It wasn't a character on a screen, it wasn't a teasing video about wanting to record again. It was him. In the flesh...plus a suit and tie. It's been six long years since he stepped on a stage to sing some tunes and we're so happy he's back, and of course bringing sexy with him.
What song do you need to see Justin sing in concert? Tell me in the comments below or on Twitter @OKMagazine and @LittleLeap.