NEWS
12 Things We Learned From 'RHOOC' Episode 9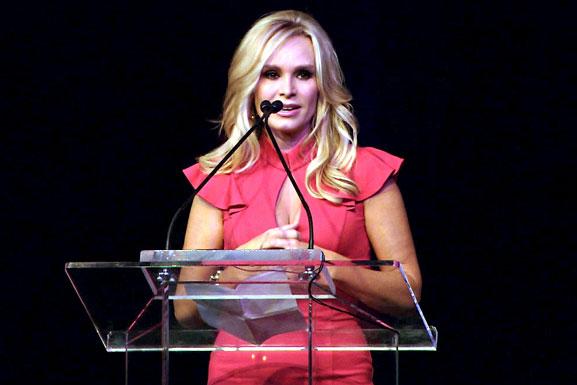 It's hard to get too light-hearted over this week's Real Housewives of Orange County episode because there was some seriously intense stuff going on. Between Tamra's shocking personal revelations and Ryan's deployment, the ladies are opening up about some tough stuff. Let's review the serious first and then lighten the mood as we go along:
OK! News: Is Jennelle Evans Pregnant Again?
Tamra has a fear of public speaking.
Article continues below advertisement
Tamra Barney isn't afraid to speak her mind…just don't ask her to speak it in front of a big, live audience. Our formerly fearless OC gal confronts her phobia at the Los Angeles Women's Expo as their keynote speaker, a gig her business partner agreed to on her behalf. Mental note for T: Find new business partner.
Tamra attempted suicide in her twenties.
Wow, this I was not expecting. During her speech, Tamra opens up about her low self-esteem, failed marriages and the time she attempted to take her life by swallowing a bunch of prescription pills. Props to her for sharing such a private struggle with so many, and doing it during a speech she was terrified to give no less.
Watch: Will Kanye West Attend Kim Kardashian's Baby Shower?
Ryan is going back to Afghanistan.
Briana's husband is being deployed again for 11 months, meaning he'll be away from Baby Troy for nearly a year and miss lots of special milestones.
Briana is terrified to leave Troy for a night.
With Briana and Ryan heading out to the Marine Ball, Grandma Vicki is in charge of Troy. Like any new mom, Briana is worried leaving the little guy for the night will mean she misses something major…like walking." If that kid started walking at six weeks old, I would personally stand atop the Welcome to Orange County sign off the 5 freeway and scream, "Woo-hoo!," in honor of Vicki.
Article continues below advertisement
Watch: Scarlett Johansson Is Up For a Big Role!
They appear to only drink out of wine glasses in Orange County.
The show opens with Heather visiting Tamra to catch up post Hot in Cleveland and blowup with Terry. The ladies are drinking what looks like water out of huge wine glasses. Has no one in the OC heard of everyday glassware? Two words and an ampersand, people: Crate & Barrel.
Terry takes Heather to the Surf & Sand for the first time.
If my reality TV history is correct, the Surf & Sand is where LC and Lo held their black and white party back in high school on Laguna Beach. Now it's the site of Terry's "Forgive Me For Being an Ass Hat" dinner, which he executes beautifully.
Watch: Tyler Baltierra Admits He's Not Sure He Wants to Marry Catelynn Lowell
Terry knows his way around a Hallmark store.
He might dub nearly any household chore women's work, but Dr. Dubrow is a master greeting card chooser when it's time to say, "I'm sorry." Seriously loving he chose to get out of the doghouse with a simple card and loving words as opposed to some expensive, over-the-top gift. Take note other Housewives hubs!
Article continues below advertisement
Lydia knows how to chop an onion…seriously.
Lydia's mom Judy is baffled that her daughter knows how to cut an onion, but the newest OC housewife insists her husband Doug taught her. Apparently knowing how to chop an onion is a really big deal.
OK! News: Jet-Setting Baby Bumps—How Much Travel Is Safe?
Lydia was too busy learning how to scatter flower petals to learn about lasagna.
Lydia and Judy set out to have a bonding afternoon over some lasagna making, during which the magazine entrepreneur admits she never learned to cook the Italian dish growing up because her mom wanted her to have fun, "like picking petals off flowers and throwing them into the air." Isn't that flower cruelty from the Flower Fairy?
Lydia think Alexis should man up regarding the other women.
As church-going housewives, Lydia thinks Alexis should be the bigger person and take the first step towards making amends with the rest of the cast, namely Tamra. "That's what we're called to do," says Lydia. Ah…so new, so naïve.
OK! News: Farrah Abraham Reveals Shocking Birthday Plans
Brooks' home is really…green.
Are those mint green walls and hunter green armchairs in Brooks' place? I really hope my TV is deceiving me. If not, get in their Gunvalson and do something about this.
Gretchen's reproductive parts are "lush."
TMI, Gretch, TMI. But I am happy to hear that this baby making hurdle shouldn't be a problem.
What was your favorite moment from 'RHOOC' this week? Tell me in the comments below or tweet @OKMagazine.