NEWS
'16 and Pregnant' Credited for Decrease in Teen Pregnancy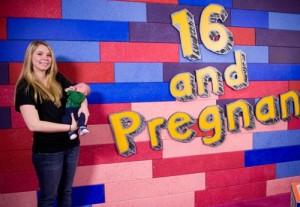 Many critics have argued that MTV's 16 and Pregnant is glamorizing teen pregnancy, but a new study credits the show for decreasing teen pregnancy.
OK! NEWS SOURCE: GARY SHIRLEY VERBALLY ASSAULTED BY NEW GIRLFRIEND & EX AMBER PORTWOOD
MTV News reports a new government study shows U.S. teen birthrates dramatically decreased in 2009.
And 16 and Pregnant is being credited for the decrease.
National Campaign to Prevent Teen and Unplanned Pregnancy reports that 82 percent of teenagers credit 16 and Pregnant for helping them understand the challenges of unexpected parenthood.
Article continues below advertisement
In 2008, teen pregnancy rates leveled off, but declined by six percent the following year. According to a study from Centers for Disease Prevention and Control released Tuesday, the decrease is a record low.
OK! NEWS: TEEN MOM'S AMBER PORTWOOD: "I'M NOT PREGNANT"
"Entertainment media is one of the nation's favorite punching bags, but we have to acknowledge that when we're talking about teen pregnancies media can be and often is a force for good, and that is particularly true when it comes to shows like 16 and Pregnant," Bill Albert, a spokesman for the National Campaign, said.
"Some critics say these shows glamorize teen pregnancy, but our survey data shows that's not the case," he added. "That not only do they not glamorize it, but teens who have seen it suggest it makes the realities of teen parenthood more real to them."
And 16 and Pregnant is thought to be a useful show for helping parents educate their children on unexpected pregnancy.
"What you see on TV, as a parent, isn't always exactly what you'd want your teen to know or say or see, but it does deflect the conversation from, 'What are you doing?' to more of an abstract, and that can be a good way to start conversations," Albert explained. "The fact is, this is not your parents' sex talk, not a one-time white-knuckle conversation, but this should be an 18-year conversation that you're having with your kids."
Do you think 16 and Pregnant deserves to be praised?