NEWS
'16 and Pregnant' Star Jordan Ward Announces She's Pregnant Again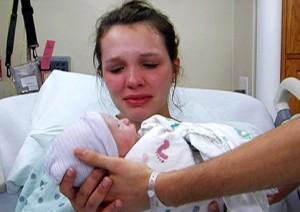 Since Jordan Ward's 16 and Pregnant episode aired this season she's gotten married to Brian, her son Noah has turned 10 months old and over the weekend, the couple announced they're expecting their second child.
OK! VIDEO: WATCH JORDAN WARD'S 16 AND PREGNANT SEASON THREE AFTER SHOW!
Yes, that's right. The teen mom is expecting baby number two and she doesn't care if people agree with her or not.
"I've read every comment on here," Jordan wrote on her Facebook wall. "Yes I'm pregnant again. I really do not care if you think it's wrong. I am married, we pay for everything, we aren't living off of family or anything."
Article continues below advertisement
"We pay rent, we own our car, for insurance, pay for food, pay for our cell phones, pay for clothes and whatever Noah needs," she explained. "And we are moving in a house in August. && here's a kicker.....IAM THE ONE WHO TAKES CARE OF NOAH 24/7!"
Jordan's husband, Brian, is reportedly heading to the Air Force in a month. Jordan, who is from St. Louis also wrote a message saying she's praying for everyone in Joplin, Mo. after the tornado hit.