NEWS
2011 Daytime Emmy Winners: Susan Lucci Thanks Fans & 'Cash Cab' Steals the Show!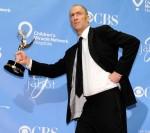 Last night the 2011 Daytime Emmy Awards had somber moments with mention of the fallen shows All My Children, One Life to Live and the official end to 25 years with The Oprah Winfrey Show, but one light-hearted moment came from Ben Bailey, host of Cash Cab!
OK! VIDEO: KELLY RIPA REMEMBERS HER DAYS ON ALL MY CHILDREN WITH SPECIAL VIDEO MONTAGE
According to Entertainment Weekly, the vibrant host was late to the stage to accept an Emmy for his show. He joked, "I couldn't get a cab, what can I say?" Then, revealing a little bit of too much information, he added, "If I am being totally honest, I was just urinating backstage and I heard my name."
Article continues below advertisement
OK! NEWS: SUSAN LUCCI ON ALL MY CHILDREN CANCELLATION — "IT'S BEEN A FANTASTIC JOURNEY"
Among other highlights, Gladys Knight performed a tribute to Oprah Winfrey even though Oprah wasn't there to accept her Crystal Pillar Award. In a pre-taped video she accepted the honor. Jeopardy snagged its 13th Emmy and shared this year's honor with Wheel of Fortune, having won its third. Both hosts, Alex Trebek and Pat Sajak respectively, won lifetime achievement awards.
OK! NEWS: ALL MY CHILDREN & ONE LIFE TO LIVE AXED BY ABC; STARS TWEET SADNESS
As for quintessential daytime drama, Susan Lucci from All My Children fame, presented the outstanding actress award and indicated that daytime "is alive and well. Look at all the talent in this building tonight. We got fans on fire, thank you so much for being there for all of us."
Here are the night's big winners:
Outstanding Drama
Article continues below advertisement
The Bold and the Beautiful
Outstanding Actor
Michael Park, As the World Turns
Outstanding Actress
Laura Wright, General Hospital
Supporting Actor
Jonathan Jackson, General Hospital
Supporting Actress
Heather Tom, The Bold and the Beautiful
Game and Audience Participation Show
Jeopardy and Wheel of Fortune
Talk Show Informative
The Dr. Oz Show
Soap Writing Team
The Young and the Restless
Outstanding Game Show Host
Ben Bailey, Cash Cab
Talk Show Host
Dr. Mehmet Oz, The Dr. Oz Show, Regis Philbin and Kelly Ripa, Live with Regis and Kelly
Talk Show Entertainment
The Ellen DeGeneres Show
Drama Series Directing
Bold and the Beautiful, Young and the Restless
Outstanding Younger Actress
Brittany Allen, formerly of All My Children
Outstanding Younger Actor
Scott Clifton, Bold and the Beautiful