NEWS
The 26 Day Fight Between Brad Pitt & Angelina Jolie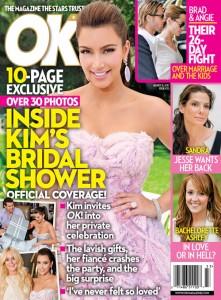 If Brits feel a chill in the summer air this year, perhaps it's the big freeze in the relationship of Hollywood's finest couple. While Brad Pitt has filmed his zombie thriller World War Z in London, he and Angelina Jolie have lived largely separate lives — they weren't photographed together for nearly a month (from June 27 to July 23). "They're at the Dorchester Hotel, but Brad is barely there," an insider tells OK! in this week's issue. The pair force smiles in public, but privately "they're at each other's throats."
Article continues below advertisement
OK! NEWS: ANGELINA JOLIE BUYS TOYS FOR HER TOTS IN LONDON
It gets worse by the day," the insider adds. "They've gone from seriously planning a wedding to ice cold." The flash point seems to be Angelina's possessiveness. As OK! reported, Angie flew from L.A. to London with Shiloh and Zahara July 21 to confront Brad about a "mystery woman" – a crew member he's flirted with on the film's Malta and London sets.
OK! NEWS: ANGELINA JOLIE TOTES HER TROOP TO THE LONDON AQUARIUM
Brad doesn't like Angie crowding him and acting jealous," a source tells OK!. "She hoped they'd spend time reconnecting but it hasn't happened. Brad despises confrontation — when there's friction he prefers to run away."
OK! NEWS: ANGELINA JET SETS AROUND THE WORLD WITH HER GIRLS & BOYS
So he's buried himself in work, while Angelina has thrown herself into motherhood, hauling her brood all over London on shopping and sightseeing jaunts to the zoo and aquarium. "Angie tries to shield the kids from the tension, but they pick up on the vibes," the source says. "They miss having their dad around."