NEWS
'30 Rock' Actor Grizzwald Chapman Needs Kidney Transplant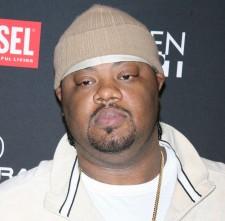 Regular 30 Rock cast member Grizzwald "Grizz" Chapman is in a desperate fight for his life as he suffers from severe hypertension that necessitates dialysis three times a week.
The 6 foot 11 inch actor who weighs 378 pounds is on the waiting list for a kidney transplant, but must lose over 75 pounds before he's considered a viable candidate. Even then, the wait is at least five years, reports the New York Daily News.
Article continues below advertisement
Grizzwald — who plays a member of Tracy Morgan's entourage — revealed his health woes to Dr Mehmet Oz on The Dr. Oz Show, airing on WNYW/Channel 5, tomorrow at 3pm.
"A lot of this stuff is new to me. Opening up is something I have to learn how to do if I'm going to be in this business," Grizzwald, 35, says.
"At first I didn't want to do it, but I felt that it would be a good situation for me to enlighten people to what's going on."
Grizzwald ignored his high blood pressure for 10 years, even refusing to take medication for his condition, and he is left with only five percent function of his kidneys.
Kevin Brown, who plays Dot Com, Grizzwald's 30 Rock co-star, came on the show to say, "He's getting that transplant! I'll lose the weight with him. For every 10 pounds he loses, I'll lose one pound. That's a deal!"