NEWS
'30 Rock' Star Jack McBrayer Fears Alec Baldwin's Future Departure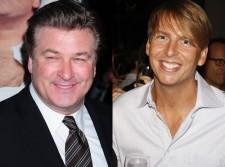 One of the funniest TV execs at 30 Rock is Jack Donaghy, played by the beloved Alec Baldwin. Alec's co-star Jack McBrayer said he fears the day the legendary actor leaves the show. Amid the rumors that Alec will end his role when his contract ends in 2012, Jack told Fancast.com, "I take it with as much a grain of salt as I can, hoping it's not true."
Jack continued dishing to Fancast.com, admitting that Alec leaving the show is "a fear I live with on a day-to-day basis over there."
Article continues below advertisement
Jack finds himself extremely lucky with his role along side a start-studded cast including Alec, Tina Fey, Tracy Morgan and Jane Krakowski.
He said he tries to maintain a calm and collected attitude.
"I don't think of myself as someone who has a lot of demands or anything," Jack said. "It's easy for me to go with the flow and fit in where there's the most room."
The cast is close on set, but Jack learned of Jane's engagement over the Internet.
"She has other people to tell before me, but I was in the top 300!" he quipped.