NEWS
Four Other Artists 'The Voice' Judges Should Battle It Out With And Why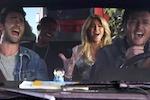 Article continues below advertisement
Shakira Made Some Big Changes to Her Team Last Night on 'The Voice'
Judging vet, Blake Shelton, has basically got it all. He's cute. He's hilarious. And most importantly, he's got a voice that makes our hearts melt....and so does Luke Bryan! We're still swooning over their ACM performance earlier this month and we want to see something along those lines again. Luke did a pretty mean "Dougie," and so a few dance moves thrown in there would be amazing, too.
10 Season 4 'The Voice' Contestants and Their Pop Star Counterparts
There's this kid that Usher discovered a few years back and his name is Justin Bieber. Yeah, well how amazing would it be to see those two have a swag-off? As amazing as Usher's voice and moves are we think the Biebs could give him a real challenge. After all, he does have #thatPOWER.
When we think sexy voice, hot body, killer tats, we think of Adam Levine...and also Justin Timberlake (yep, he's got a few tats!). We'd love to see these two singing hotties all suited up (pun intended) belting out a few sultry tunes. Hot bods and sexy songs? We'll take that now, please.
Article continues below advertisement