NEWS
The 5 Best Pop Culture Promposals Ever, According to The OK! Editors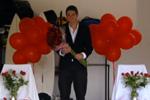 Prom season is upon us! And whether you're going to one yourself or reliving your own prom vicariously through younger people's Facebook pictures, this is a fun time for all.
Photos: 15 Teen Pregnancies That Happened on TV
And here at OKMagazine.com? We're making it really fun by reliving our favorite promposals (that's prom proposals, for those of you not in-the-know) from pop culture. Check out the editors' five most memorable below!
Article continues below advertisement
Watch: Wait! Did a Friends Reunion Actually Happen?
Kaitlin, Senior Editor: "Pretty in Pink. The dialogue is so painfully awkward that it feels real, as does the very-teenaged kiss that is very clumsy and then surprisingly hot. And of course, she screams when she gets home!"
Victoria, Editorial Assistant: "10 Things I Hate About You. He kisses her after their whole paintball fight thing when they are sitting on the steps of her house. Asks her to prom. She says no and storms out... but then he shows up anyway and so does she. It's so cute."
Lea, Video Editor: "I love everything about the Napoleon Dynamite prom. I'm so glad Napoleon got himself a prom date and didn't just sit it out at the dance. Even if Trisha begrudgingly said yes and then was not a fabulous date… If a dude drew a picture of me to ask me, that's an almost guaranteed yes. Just don't tell me how long it took to draw my upper lip. Don't need that info."
Emily, Social Media Manager: "My favorite Promposal is from American Pie because when Jim asks Michelle it is out of sheer desperation. The exchange student he wanted to take (Nadia, remember? With the boobs?) is sent back to her home country and he is left dateless. And we all know what happened at the prom after-party, so lesson learned -- don't judge a book by its cover!"
Article continues below advertisement
Haley, Entertainment Editor: "Laguna Beach, always. They had an entire episode built around promposals in season 2, and one was more extravagant than the next. Personally my favorite was when Talan had roses and balloons waiting for Kristin in her garage. It was basically a wedding proposal and it was brilliant."
Also, here's the ENTIRE promposals episode of Laguna, for your viewing pleasure:
Get More: Laguna Beach (Season 2), Full Episodes