NEWS
5 Fun Things We Learned About The Spoils of Babylon Cast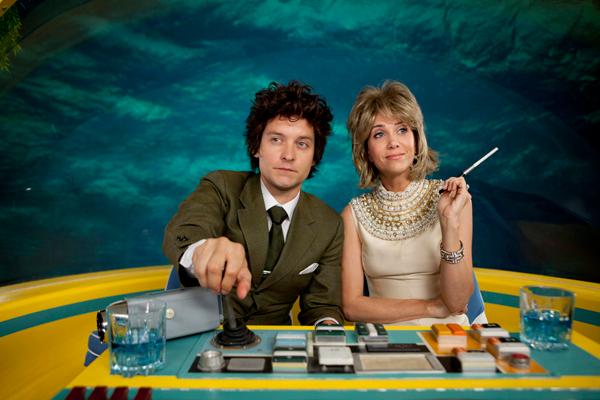 IFC's The Spoils of Babylon boasts an all-star cast including Tobey Maguire, Kristin Wiig, Haley Joel Osment and Will Ferrell. The actors fielded questions from reporters at the series' Television Critics Association Winter Press Tour panel and some of their answers were as funny as the show itself.
OK! News: Is Matthew McConaughey Worried His Hot Streak Will End?
• Both Tobey and Haley appeared on episodes of Walker, Texas Ranger in the 90s. Who knew? "I did an episode of Walker, Texas Ranger when I was a teenager and boy did I think I was a good actor. I had a leather jacket on and I was smoking a cigarette in the episode. Years later I looked back at that episode and said, 'Wow, was I bad.'"
Article continues below advertisement
OK! News: I (Kinda) Survived a Barry's Bootcamp Class with the Enlisted Cast
• When a reporter compared Tobey's turn in The Great Gatsby as being the "straight version" of Spoils of Babylon and asked if it was a coincidence he chose to do both, the actor quipped, "It was so similar sometimes I didn't know which production I was in. It was really confusing for me. Generally I want to say, for those of you who will watch this, I'm sorry and you're welcome."
• "I loved Dallas, just because of the hair and shoulder pads," says Kristin when asked if she was a fan of any of the prime time dramas that inspired the satirical series.
OK! News: Go Behind the Scenes of Emma Stone's New Revlon Commercial
• Haley was psyched to play a bad guy. "It's not just the opportunity to do great comedy with an amazing cast and creative team, but getting to play the villain is something a lot of actors want to do more than is possible sometimes," he admits. "Being a young person and getting to play that in this was pretty fun."
Article continues below advertisement
• Tobey may have commitment issues. "If I read something I like and I like the people involved I would do it," says the film actor in response to whether or not he would guest star on a TV series. "I don't know if I would commit to something for seven or eight years. Not because it's TV, but because of the time commitment. I have trouble committing to three or four month jobs, but that's really the only consideration I have."
The Spoils of Babylon airs Thursdays at 10/9 central on IFC.
Will you watch The Spoils of Babylon? Tell us in the comments or tweet @OKMagazine.
Normal
0
false
false
false
EN-US
X-NONE
X-NONE
/* Style Definitions */
table.MsoNormalTable
{mso-style-name:"Table Normal";
mso-tstyle-rowband-size:0;
mso-tstyle-colband-size:0;
mso-style-noshow:yes;
mso-style-priority:99;
mso-style-parent:"";
mso-padding-alt:0in 5.4pt 0in 5.4pt;
mso-para-margin-top:0in;
mso-para-margin-right:0in;
mso-para-margin-bottom:10.0pt;
mso-para-margin-left:0in;
line-height:115%;
mso-pagination:widow-orphan;
font-size:11.0pt;
font-family:"Calibri","sans-serif";
mso-ascii-font-family:Calibri;
mso-ascii-theme-font:minor-latin;
mso-hansi-font-family:Calibri;
mso-hansi-theme-font:minor-latin;}