NEWS
I (Kinda) Survived a Barry's Bootcamp Class With the Enlisted Cast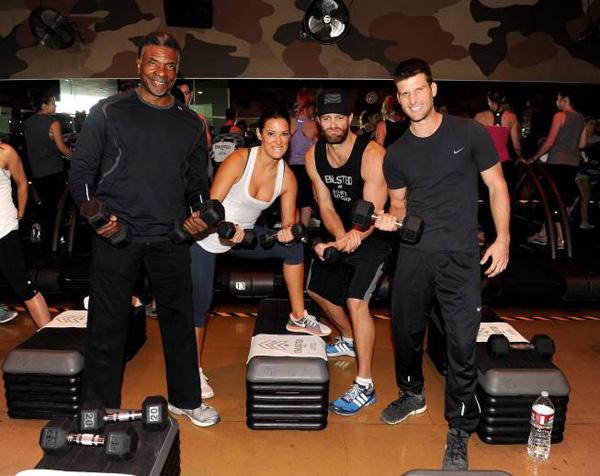 FOX's new comedy Enlisted premieres this Friday, January 10, and as a fun way to promote the Army-centric show, I was invited to work out with the cast at, where else, Barry's Bootcamp in West Hollywood. Fun, right? Totally, except I haven't seen the inside of a gym in four months and the marriage of the words boot and camp terrifies me. Nevertheless, I excavated my workout clothes from the back of my closet and dusted off my gym shoes. It was go time.
Article continues below advertisement
OK! News: Ravenswood's Nicole Anderson Reveals the Contents of Her Beauty Bag
When I arrived, series stars Geoff Stults, Parker Young, Keith David and Angelique Cabral were busy with press interviews, giving me time to stare blankly at the long row of treadmills (how do those work again?), find out if there was a medic on site (there wasn't) and learn a little more about the show.
If you're not already familiar, Enlisted revolves around three brothers, all Army soldiers, who find themselves reunited on the same Florida post, under the tutelage of their late father's best friend who promised to look out for them after his passing. Needless to say, chaos and hijinx ensue.
OK! News: Kiehl's Joins Forces with Alicia Keys For Keep a Child Alive
Back to business: Half of the group started class on the treadmills and half started on the floor with strength-training exercises. I was in the floor group along with the cast. There's nothing more humbling than doing burpees (basically a four-count squat thrust) next to a triathlon athlete (and all around hottie) like Geoff. But I did my best and I did not die!
Article continues below advertisement
Our instructor Ricardo proceeded to have us do wall sits (ouch!) and a host of other tough exercises. I was just happy he didn't act like a real drill sergeant and yell at me. I can fight my way through exercise, but yelling makes me cry. Truth.
OK! News: How Will The Stars Dine at the Golden Globes on Sunday?
After about 20 minutes we switched it up and the floor people moved to the treadmills and vice versa. I'm not gonna lie, I made it through about 10 minutes on the tread before I had to call it a day. I don't like being a quitter, but I was out of breath and exhausted. Baby steps, people, baby steps.
I was super impressed by Angelique who powered through the entire class happily. See, actresses do work hard for those bodies!
Will I go back to Barry's? Definitely. Will I make it through the entire class on my next try? God, I hope so. But at least I know every Friday I can laugh through my soreness watching Enlisted on FOX at 9:30/8:30 central.
What's your workout of choice? Tell us in the comments below or tweet @OKMagazine.