NEWS
The 5 Funniest Things Rebel Wilson Has Ever Said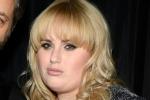 Rebel Wilson is hosting the MTV Movie Awards this Sunday, April 14! We can't wait to see the bizarre, hilarious, insane things she comes up with for the gig, so in the mean time let's take a look back at her funniest moments.
Watch: Rebel Wilson Wants Channing Tatum to Take His Shirt Off!
1. "I got a free tattoo. I could not believe it. The guy said, 'Do you want a tattoo?', opened up the side of his van, he said, 'It's for free!' And I said sure. Look. It's a Mexican drinking worm. It's like the Native American symbol meaning 'wasted.'" We met the actress for the first time in this excruciatingly funny scene in Bridesmaids.
Article continues below advertisement
2. "Thanks, it was my grandma's." Rebel response to Conan O'Brien compliment about her "b*tch" necklace.
3. "I was walking down the street and this guy come up to me and he's like, 'Hey you, you look like you could rap.' I'm like, 'Well, I've never tried it before.' I always thought maybe ballet or politics or something, that would be my thing. But he's like, 'No girl, you could rap.' I was three years of age, so that guy just really knew how to pick talent." On launching her rap career.
4. "I sometimes have a feeling I can do crystal meth, but then I think—Mmm, better not." It's hard to pick just one moment from Pitch Perfect, but this one always makes me laugh out loud. Here's a whole collection of Fat Amy's best moments. Crushed it.
5. "Let's just go around the car and tell each other how we really feel. I'll go first. Channing, I love you. You're so awesome. You're the love of my life. You're so awesome in all movies, even the ones where you don't scream. I have dreams about you every night. You're like a tender man-steak that I just want to go like that to." To see what she means by 'that,' watch this hilarious new promo for the MTV Movie Awards!