NEWS
5 Shows To Watch on TV Tonight Like 'Big Brother,' The 'Real World/World Rules Challenge' Special and More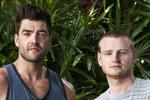 It's Hump Day! And Wednesday, which means it's a pretty awesome night for summer TV. Here's what's on the agenda...
Watch: Paula Deen's Tearful Apology on Today
Big Brother. 8pm on CBS. This show has been going strong for 15 seasons yet still each year is different and fun and amazing. But then again, watching strangers live together and have zero contact with civilization for weeks is basically asking for it. Tonight's the season premiere!
Article continues below advertisement
Newsroom. 9pm on HBO. Season 2 begins July 14, but catch up on everything you missed from season 1 of this much-talked-about new Aaron Sorkin drama tonight.
How To Live With Your Parents for the Rest of Your Life. 9:30pm on ABC. This show starring Sarah Chalke got cut after just one season, so you might as well tune into the last episode ever tonight, right?
OK! Exclusive: Style Scoop From The Pretty Little Liars Fashion Designer
Real World/Road Rules Challenge. 10pm on MTV. The Challenge: Rivals II doesn't premiere until July 10, but this episode is a preview of the upcoming season filming in Thailand and the 16 pairs of contestants vying for the win. Snooki and Kenny Santucci host!
Get More: The Challenge (Season 24), Full Episodes
Couples Therapy. 10pm on VH1. And speaking of the Real World, a former couple from the MTV show joins the other 4 couples tonight for the season's remaining episodes. Any guesses?