NEWS
5 Shows To Watch on TV Tonight Like The 'Catfish' Special,' 'RHOC' And More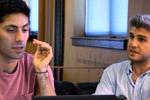 It's Monday again. Grr. But instead of getting depressed, look forward to these 5 shows that you can and should be watching when you get home from work/school tonight. From The Bachelorette to RHOC to Catfish, see what we're tuning into tonight and why!
OK! Exclusive: The Girl Code Girls Discuss PDA
1. The Bachelorette. 8pm on ABC. Desiree and the 13 remaining dudes travel to the Jersey Shore for tonight's dates. 2 get eliminated tonight, too.
Article continues below advertisement
2. The Real Housewives of Orange County. 8pm on Bravo. The gals are back from Mexico but the drama isn't gone yet, folks! Lydia hosts a salsa dance party and Vicki gets an unexpected visitor in the form of Brooks. Yikes.
3. The Voice. 8pm on NBC. It's the finals, ya'll! Watch tonight as the final contestants vie for the winning spot. Think Team Blake is going to win again?!
4. Love, Marilyn. 9pm on HBO. This special documentary features well-known actors reading excerpts of Marilyn Monroe's writings, interspersed with photos, footage and more about the Hollywood beaut. This is basically like, what you didn't see in the film version, My Week With Marilyn.
OK! News: Girl Meets World Gets Picked up by Disney!
5. Hooked on Catfish: The Road to Season 2. 11pm on MTV. Before next week's season 2 premiere, this special presentation shows fans where things left off with Nev and Max in season 1 and how it leads in to season 2. Clearly this is worth staying up late for.