NEWS
5 Shows To Watch on TV Tonight Like 'Couples Therapy', The 'Real World' Finale And More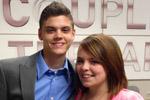 Happy hump day! Check out what the editors of OKMagazine.com are watching on TV tonight and why you should too. Here are our 5 picks...
Photos: Recap of Last Night's Dance Moms
1. Baby Daddy. 8pm and 9pm on ABC Family. There's 2 new back-to-back eps airing tonight, which means back-to-back of that adorable baby. Win win.
2. Chef Roble. 10pm on Bravo. Roble's catering yet another party for yet another celebrity on tonight's all-new episode. Also, he's charming and adorable, so that's another reason to watch. Just saying.
Article continues below advertisement
OK! Exclusive: Chef Roble Spills on his A-List Clients
3. I'm Having Their Baby. 10pm on Oxygen. This is probably one of the most emotional shows about having babies because it's all about couples who give theirs up for adoption. Season 2 premieres tonight and so tears will most likely ensue.
4. Couples Therapy. 10pm on VH1. Season 3 makes its debut tonight, featuring Catelynn and Tyler from Teen Mom and 4 other celeb couples who need therapy from Dr. Jenn Berman. Watch our exclusive clip here to get you even more pumped!
5. The Real World: Portland. 10pm on MTV. It's the season finale tonight, and as per usual, this episode is all about Nia. We'll miss that crazy kids and her crazy ways.
OK! Exclusive: Real World Cast Plays Real World Trivia
Which show are you watching on this fine Wednesday night? Which summer TV premiere are you most excited for? Tweet us @OKMagazine!