NEWS
5 Things to Know About Andrew McMahon of Jack's Mannequin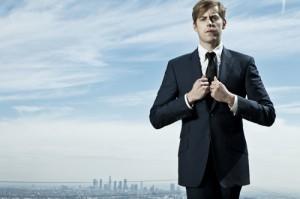 Indie pop rock band Jack's Mannequin's new album People & Things comes out Oct. 4, nearly 10 years after lead singer Andrew McMahon became an overnight teen idol with his former band Something Corporate. At 29 years old, Andrew may be all grown-up, but listening to the album gives us those teen fan jitters all over again! Before the band hits the road on their nationwide tour, OK! talked with Andrew about life as a rock star, relationships and writing People & Things.
Article continues below advertisement
1. ON WRITING THE ALBUM IN THE DESERT:
"It was fun to say the least. We were so close to the Joshua Tree National Park. We'd work on a song, we'd get to go on a hike and basically climb up to the top of this hill and you'd see the entire valley out there below you. It was a pretty magical moment."
2. ON BALANCING LIFE AS A MARRIED ROCKSTAR
"I amlucky to be married to an amazing woman who understands that listening to my creative instinct is so important to me being a good husband. To find that satisfaction in my life artistically is really integral to me being a productive member of a relationship or just being a good friend, a good son or brother. … I think a lot of this record is centered around this idea: how do I balance art and inspiration with the life I live on a daily basis?"
3. ON WRITING ABOUT LOVE
"When it comes to love and relationships there tends to be a couple of angles that people take and it tends to be the either heartbroken or the newly found love and I think there is just a reality for most of us that we are somewhere in between that. I really wanted to talk about that moment in life. It's the stuff in between."
4. ON HOW HE RELAXES ON THE ROAD
"I try and do yoga everyday on non-show days, try and stay healthy. We bring different yogis in at every city so it's sort of whatever their practices tends to be what are practices are for the day. At home, I am doing a combination of iyengar or ashtanga yoga."
5. ON BECOMING AN OVERNIGHT TEEN IDOL IN SOMETHING CORPORATE
"There is so much of that period of time of my just feels like a dream or something. It's interesting to have you and your best friends from high school go from playing songs in the garage to running a kind of multimillion-dollar business. We handled it in a pretty responsible way in that we didn't let it destroy us -- we didn't all turn out to be a bunch of assholes!"