NEWS
5 Things You Didn't Know About Gravity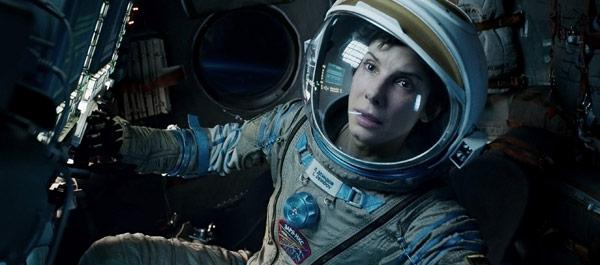 You may have been riveted by Gravity in the theater, but how much do you actually know about the film's behind-the-scenes action? Here are five fun facts to know about the gripping movie before Sandra Bullock, George Clooney, Alfonso Cuaron and crew discover their fate at the Oscars on Sunday.
OK! News: 5 Things You Didn't Know About Amy Adams
Sandra Bullock and George Clooney weren't the first actors in talks to star in Gravity.
Article continues below advertisement
It seems like every great movie has a sliding doors-like story where other big name stars were originally in talks to play the lead roles before dropping out for any number of reasons, and Gravity is no different.
""I had conversations with Angelina (Jolie), but then she went to do one film, and then she was going to direct (Unbroken, to be released this year)," director Alfonso Cuaron explained in an interview for The Hollywood Masters. "Something happens, you part ways."
Robert Downey Jr. was initially up for the role of Matt Kowalski.
OK! News: Gwen Stefani Launches Accessories Collection with ShoeDazzle
Sandra almost turned down the role of Ryan Stone.
"I said I don't want to work. I have nothing to offer. I don't know where to begin to start talking myself into (this). I had wanted to stay home with my sweet little boy," she told Charlie Rose in an interview. "There were other factors that you need to weigh before going off on this journey. There was no way you could sort of get a handle on and say, 'I know what this is going to be and I can feel secure in making this decision.'" Once Alfonso assured her they could make sure she would be able to spend enough quality time for her son Louie, Sandra signed on.
Article continues below advertisement
George and Sandra have known each other for over two decades but this is their first film together.
"Sandy and I have known each other for over 20 years and we both were struggling actors when we first met," says George. "She was dating a friend of mine at the time who's still a good friend of ours. Every time we're together it's funny. She's somebody I adore, really, she's just fun to be in a room with. I'm sure people will assume people aren't quite who they appear to be on screen--they're shorter or taller or meaner or dumber--but Sandy is exactly what she appears on screen, an incredibly charming woman who's really just fun to hang out with."
OK! News: 12 Celebs We'd Love to See on Dancing with the Stars
Contrary to reports, George didn't write a scene in the film, but did send Alfonso a helpful note.
"They were struggling with how they tell people Sandy wants to live instead and I said maybe she talks to her little girl, and says, 'Mommy loves her,'" he explained to The Wrap. "Alfonso is such a sweet guy. He hands out credit to everyone all the time. I sent him the scene as I was leaving London. I said.''Maybe this helps. Maybe this will fix the problem.' He said they shot a version of it."
Article continues below advertisement
Sandra may not have stuck in space, but she was removed from the crew for much of the shoot.
"For a long period of time—for many weeks of the shoot—Sandra was living in this cube," Alfonso tells Vulture. "It was a nine-foot-by-nine-foot cube of LED lights that she was inside, strapped to a rig in order to mimic whatever atmospheric lighting conditions she'd be floating within. It was very time-consuming to get her in or out, and the closest crew member being maybe 30 feet away, and in which all her communication would be through the earphones in her space cap, and I would talk to her through the earphones."
Which movie has your vote for Best Picture? Tell us in the comments or tweet @OKMagazine.