NEWS
ABC Axes Adam Lambert Again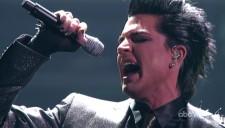 The backlash from Adam Lambert's homoerotic American Music Award performance is still coming back to haunt him...in the form of ABC appearances that is. The American Idol runner-up has been cut from two more ABC programs, Jimmy Kimmel Live and Dick Clark's New Year's Eve show with Ryan Seacrest, the Huffington Post reports. Adam broke the news to fans last night over a series of Tweets.
"Yes, sadly friends, ABC has cancelled my appearances on Kimmel and NYE. :( don't blame them," Adam tweeted. "It's the FCC heat."
Article continues below advertisement
"I AM doing Leno though. And lookin into something for NYE."
"It'll all blow over," he tweeted, being a good sport about the whole situation. "Let's focus on being positive! :)"
Adam ruffled more than a few feathers last month during his AMA performance, where the American Idol alum passionately made out with a guy on stage and simulated oral sex.
As a result of the risque performance, Good Morning America canceled Adam's live concert.
"Given his controversial live performance on the AMAs we were concerned about airing a similar concert so early in the morning," an ABC spokesperson announced.
Glambert had a revelation on The Ellen DeGeneres Show Monday.
"It was maybe a little too far," hed admitted during a sit-down interview with Ellen.
"I think in hindsight I look back on it and I go, 'OK, maybe that wasn't the best first impression to make again, the first second impression.' I mean, I had fun up there, I had a good time, my dancers had fun and the band had fun.
"I respect people and feel like people walked away from that feeling disrespected. I would never intend to disrespect anybody. So that was not my intention."
Ellen, 51, an incoming American Idol judge, stood by her guest: "My whole thing is I feel like if you're offended by a show of sexuality on stage, then you should be offended by all shows of sexuality. It should be all forms," she said.