NEWS
'Mad Men' Star Jon Hamm Has Overcome Major 'Torment,' Insider Reveals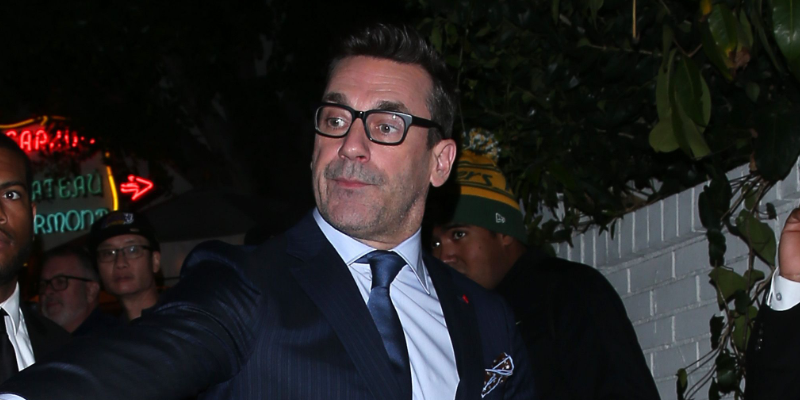 Love, loss, and starting over at 50! Since becoming a household name more than a decade ago, Jon Hamm's appeared to have it all: adoring fans, a genre-crossing career and the admiration of his industry.
But while he's often seemed to share the charmed existence and smoldering confidence of his TV alter ego, Mad Men's Don Draper, behind the scenes he's weathered his share of devastating lows — including struggles with sobriety, difficulties reconciling childhood loss and the abrupt end of a long-term relationship.
Article continues below advertisement
As he prepares to turn 50 next March, the private star has started "opening up to friends like never before," reveals an insider. "He's saying he'd like to write a book about everything he's been through and learned along the way. He realizes people see him as this enigma, mysterious and standoffish, and he wants to dispel that myth."
'SOUTHERN CHARM' STAR KATHRYN DENNIS WANTS TO DATE JON HAMM
Hamm's already begun being more forthcoming. He revealed that his decision to check into rehab and get sober in 2015 was a crucial one, and that it came on the heels of the increasing demands of fame.
"You're coming off this Tilt-a-Whirl that's going 9,000 miles an hour, and so many things have come unfixed," he said, going on to explain that losing his mom at age 10 and his dad at 20 threatened to leave him "rudderless." "When you're a kid, you're just not equipped to deal with some of the stuff that life brings you." 
The source says that rehab forced Hamm to grapple with his losses head-on. "He was bottled up inside and kind of tormented," notes the source, adding that the star's habit of "turning to booze as an ice-breaker" was a factor in the 2015 dissolution of his 18-year relationship with actress Jennifer Westfeldt. "Alcohol became a problem as he and Jen were going through their own issues," explains the source. "Neither one caused the other, but they didn't help either."
Article continues below advertisement
Though he and Westfeldt, like many Hollywood couples, were subject to outside pressures — including rumors that Hamm had an affair with Mad Men costar January Jones — their ultimate breakup was simply a function of "growing apart," claims the source. "Jon never crossed the line with January — that's another thing he wants to clear up. He and Jennifer broke up because the spark had long since died."
"After years of putting his career first, he's finally talking about settling down and starting a family," says the source. "He's been able to deal with his own childhood issues and now wants to focus on his personal life and building a relationship with someone he loves."
As Hamm himself has said, "It's all about growing older and getting better at living."