NEWS
Ada Wong's Biggest Loser Blog: Challenges & Breakthroughs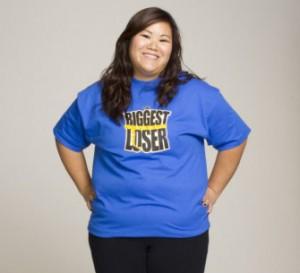 Each week, Biggest Loser contestant Ada Wong will bring you her experience on the show — as the episodes air! Check out the trials and triumphs of Ada each week, only on OKmagazine.com!
Putting 400 cupcakes in front of Biggest Loser contestants? What did you think would happen? Surprisingly, not what I expected. I thought more of us, including myself would have given into temptation, but alas, only four people participated.
Article continues below advertisement
I can only speak for myself when I say this — it was just not worth it to me. With the yellow line being where it is these days, I couldn't risk ingesting more calories than what I was allotted. The odds didn't seem too great either.... one in 400? No, thank you.
OK! EXCLUSIVE: ADA WONG'S BIGGEST LOSER BLOG — THE WARM FUZZIES ARE OVER
Poor Elizabeth, she was so desperate to find away to stay as far from the yellow line as possible that she decided to try her luck at the temptation. I didn't know the girl that well but seeing her fall apart the way she did really broke my heart. I'm always a nervous wreck at every weigh-in so I can only imagine what she was going through placing below the yellow line week after week. I hate to say this, but I wasn't exactly thrilled when Adam won the challenge... and it's only because he is such a strong competitor.
With the red line looming over us, the intensity of Bob and Jillian's workout was kicked up a couple notches. Frado unsuccessfully tries to keep a low profile while Patrick is pushed to the brink of exhaustion, Mark throws out his back, Lisa storms out, Elizabeth nearly has another asthma attack, and Aaron who was struggling, finally breaks through by focusing on why he's here in the first place — his son, London.
Article continues below advertisement
ADA WONG'S BIGGEST LOSER BLOG: THE DANCE WITH THE YELLOW LINE
At the weigh-in, I was completely FLOORED when the scale revealed I lost 10 pounds! It was such a great feeling to see my name shoot up to the top with a 4.27 percent weight loss. But unfortunately, the good vibes don't last... I had a major "D'OH!" moment when I complained to Jillian about not having a breakthrough. Week after week, I see all these people either show a ton of excitement, or break down into tears. And I assumed because I didn't express those SAME emotions, that I was impeding my very own, personal breakthrough. And as you all saw, Jillian made good on her word and tore me up in the gym the next day.
But looking back, I'm thankful she did because I had so many repressed emotions that would not have been able to come out without her breaking me down first. It was the first time I really discussed what I had been feeling all these years and I could feel the weight lifting off as I was releasing all that I had bottled up. It finally made sense to me why I wasn't capable of displaying those same emotions that everyone else did on the scale.
Article continues below advertisement
I was really surprised Sophia ended up falling below the red line. From the way it was looking, I thought for sure Mark would be going home! But I'm glad Sophia was at peace with all of it when she left. She really has matured into the independent woman she was searching for when she got onto the Ranch.
In the days leading up to the challenge, Burgandy continued to train hard and ignored whatever pain she was feeling until she couldn't even walk up the stairs one day. I was frustrated for her because it felt like she couldn't catch a break. And now, she couldn't even participate in a challenge to try and save herself. When I saw the challenge was strength-based, I pretty much knew how things were going to unfold. But hearing the commentary was awesome! Can I just say that I LOVE Lisa?! Her one liners throughout the season are HILARIOUS — "squares do not like to roll"... I love it, I love it!
Alright, see ya next week!
Ada