NEWS
Ada Wong's Biggest Loser Blog: The Dance With the Yellow Line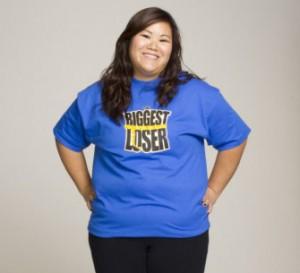 Each week, Biggest Loser contestant Ada Wong will bring you her experience on the show — as the episodes air! Check out the trials and triumphs of Ada each week, only on OKmagazine.com!
Alright, you wouldn't think someone who was ACTUALLY at the Ranch would be surprised by anything she saw on this week's episode, but you'd be amazed by what you miss while you're huffing and puffing away on a 7 incline treadmill — trying not to slide off! First off, had I seen Jillian's reaction to Sofia's eye roll, I would have saved myself a lot of grief — but stay tuned for more of that a little later on.
Article continues below advertisement
One person who will never go unnoticed by me or the rest of the Ranch (including the animals) is Frado. His grunts in the gym echo throughout the Ranch and wilderness. No one would argue that he definitely made his presence known. And I will never forget my introduction to Frado because as he was throwing up on the treadmill next to me, I felt splatters of his vomit on my leg! But I love the guy nonetheless!
OK! NEWS: JILLIAN MICHAELS ADMITS NOSE JOB — "PLASTIC SURGERY IS A VERY PERSONAL DECISION"
Watching Brendan was heart-breaking. I had no idea Bob was torturing him to the point of snot dripping down his nose and tears welling up in his eyes. It's sad to see someone who had it all, let it slip away because he couldn't be happy with himself. And I think that's the common thread with everyone this season, and every season. Right off the bat, you know this show is so much more than about weight loss.
Article continues below advertisement
After a heavy first hour of tear-jerking moments, your emotions shift to fear as you realize that this season is unlike any other in that half the people on the show are in danger of falling below the yellow line. I was TERRIFIED. If I had one goal, it was NOT to go home at the end of the first week. Fear turned into relief when I realized I was safe.
One moment I remember all too well was the fight between Burgandy and Jessica. I remember thinking, "Wow, this is going to be a good season!" Personally, I don't think it was any one person's fault. When you're in competition mode, things happen.
OK! NEWS: BIGGEST LOSER CHAMP MICHAEL VENTRELLA'S GOT MILK!
This week-long rollercoaster of emotions didn't end just yet. And for a person who doesn't display much of it, it was a shock to my system to say the least. I was now in a position to vote off a person that I became friends with and liked. How does one do that? But you quickly learn its part of the game. It was sad to see Allie leave because I knew she would have a tough time at home. But relief did set in when I saw that she was thriving at home!
Tune in next week for more behind the scenes tidbits through my eyes!
Ada