NEWS
Ada Wong's 'Biggest Loser' Blog: Ooh-Rah!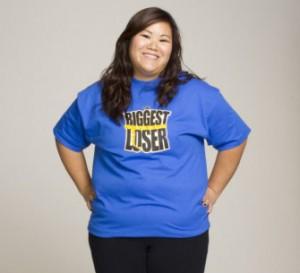 Each week, Biggest Loser contestant Ada Wong will bring you her experience on the show — as the episodes air! Check out the trials and triumphs of Ada each week, only on OKmagazine.com!
I'm no creature of habit but I was getting used to life on the Ranch... and just when I was getting comfortable with my routine, two Marines walked in and I immediately knew this week was going to be unlike any other.
Article continues below advertisement
I must say, I was a little nervous of what was in store for us. When we climbed in those Humvees, I turned to Patrick and said, "I'm scared." He replied with, "Me, too."
OK! EXCLUSIVE: ADA WONG'S BIGGEST LOSER BLOG — THE WEAKEST LINK
Apprehension turned into awe as we arrived onto Camp Pendleton. I had never been on a Marine base before and it was pretty amazing to see all the training first hand. At one point, I remember looking up at the sky and seeing a plane pull a row of Marines suspended in air — that was bad ass! The rest of us got to ride on CH-46 helicopters and toured the entire base from up above. I was grinning from ear-to-ear! I mean, who else besides Marines get to ride in CH-46s? Umm Biggest Losers, that's who! It was an incredible experience!
OK! EXCLUSIVE: ADA WONG'S BIGGEST LOSER BLOG — A TEAM DIVIDED
So after hiking up what seemed like the steepest hill in America — especially with an extra 35 pounds on your back — we finally get to the barracks. And you should have seen the look on my face. I'm no diva but I can't remember the last time I shared a room with 11 other people. And if the "Diva" didn't come out that moment, she most certainly wanted to come out when the CIs woke us up at 4:30 a.m. the next morning, yelling in our ears. Ada Wong does not like to be told what to do... but I was a good sport and sucked it up anyway.
Article continues below advertisement
The worst part was that we had TWO MINUTES to get dressed, brush our teeth, and use the rest room. By the time I finished getting dressed, I had a decision to make. Should I empty out my bladder or brush my teeth? I chose the latter... apparently fresh breath was more important? Don't ask me why... I soon realized I didn't make the smartest decision because aside from trying to get through morning drills, I had the added pressure — literally, to not pee all over myself.
OK! EXCLUSIVE: ADA WONG'S BIGGEST LOSER BLOG — CHALLENGES & BREAKTHROUGHS
I learned a lot that week. And for a girl who doesn't even like to go camping because it's "dirty," she actually had fun crawling through mud with water-soaked boots. What you guys didn't see was the amount of time the CIs spent with us and their dedication. They inspired and pushed us every second of the day to challenge ourselves and strive to be better.
That week was the first time I realized I could be pushed beyond what I thought was possible. I began to feel the inner strength everyone told me I had but didn't quite see myself. That week was truly a turning point for me because I finally started believing in myself. I think I speak for all of us when I say, we are eternally grateful for the impact the CIs have made in our lives.
Ada