NEWS
Ada Wong's 'Biggest Loser' Blog: When the Going Gets Tough...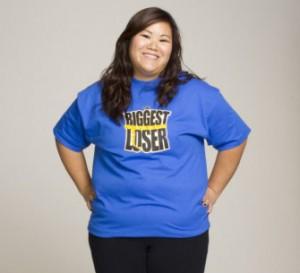 Wow, where do I begin? As a "viewer," this was probably my favorite episode to date. But as a contestant, I was miserable that week — and it was apparent.
As far as being a viewer goes, the uplifting moments are great, but I also like the drama, the game play, the strategizing... was that bad for me to admit? I just think it makes the show a lot more interesting and entertaining. Life isn't about lollipops and gum drops — and it sure as hell isn't black and white. Sometimes you're faced with difficult decisions. But with that said, you can't help but take it personally because your emotions are involved.
Article continues below advertisement
OK! EXCLUSIVE: ADA WONG'S BIGGEST LOSER BLOG — OOH RAH!
While I wasn't thrilled initially with having Jessica as my partner, I began to think this might be a blessing in disguise. We soon realized that as smaller girls, we wouldn't have to lose the same amount of pounds as the boys to get a high percentage of weight loss. But despite the realization, I was really stressed out that week. I must have cried everyday that week because I was terrified of going home.
Surprisingly enough, the sugar cube challenge was a nice distraction even though I HATED it in the beginning. I take advantage of the rare moments I get to put on makeup — and the challenge was one of them. But after 10 minutes of running back and forth, dripping in sweat... I yanked out my pigtails, tied my hair in a bun and ripped off my fake eyelashes! Nothing's worse than being caught on camera with a falsie hanging off the side of your eyelid.
Article continues below advertisement
OK! EXCLUSIVE: ADA WONG'S BIGGEST LOSER BLOG — THE WEAKEST LINK
And if that wasn't enough, imagine the sweat mixed with sugar creating a sticky mess! An ant colony would have hit the jackpot if they found me... But an hour into the challenge, Jessica and I were starting to make progress and before we knew it, we were inches from that green line. Can you imagine how nerve wracking that moment was? I literally had to pause and take a few deep breaths to keep my hands from shaking. But the moment that last sugar cube hit the green light, it was all worth it. The most satisfying moment of the week!
After winning the challenge, I started to feel more confident and in better spirits as the week progressed. You better believe I wasn't going down without a fight. And boy did I fight when I had to drag myself across the gym floor with everyone on top of me. I got a little choked up watching that scene because Bob said, "Life is always going to be pressing down on you."
OK! EXCLUSIVE: ADA WONG'S BIGGEST LOSER BLOG — A TEAM DIVIDED
Article continues below advertisement
I've had to fight my whole life and this was no different. I felt empowered when Bob said, "Crush her, she can handle it." I never want anyone to take it easy on me. When I finish at the end of the day, I want to know that I was pushed beyond my limits. And I was that day. I learned a lot that week. And one of those lessons was to not make assumptions that a person is weak based on a past track record. Jessica not only carried our team but she helped me see that when the going gets tough, the tough get going.