NEWS
Adam Carolla's Rant on the Occupy Movement: "Self-Entitled Monsters"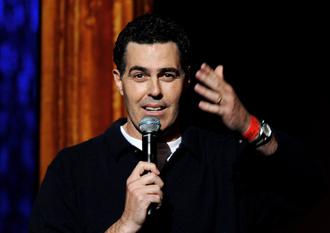 Usually when expletive-ridden celebrity rants are released, the topics are very personal and the audio was never meant for public ears. Never one to conform, the latest rant by comedian Adam Carolla was originally part of his podcast from The Adam Carolla Show in October and focuses on nothing other than the Occupy Movement.
In the nine-and-a-half minute clip, Adam gets audibly upset discussing the movement (though, he never mentions it by name). Throughout, Adam refers to the protesters as "self-entitled monsters," "f**king losers" and a variety of other colorful insults.
Article continues below advertisement
According to the former The Man Show host, the locus of the Occupy Movement isn't the strive for economic equality or corporate honesty, but simply envy.
"We are now dealing with the first wave of participation trophy, my own fecal matter doesn't stink, empowered...everybody's a winner, there are no losers — we are dealing with the first wave of those f**king a**holes. That's who we're dealing with now."
Adam compares economic success to sports trophies in the clip and defends those who earn success, explaining: "I busted my a**, that's why. Or maybe I'm just genetically better. Either way, I got the trophy so shut the f**k up and get back to work. Or better yet, on the bench where you belong."
The comedian goes on to describe the way participants in the movement have been unprepared for life, leading them to be shameful and bitter at their inability to get a job.
Adam's angry response to the Occupy Movement comes as a bit of a shock after so many of his fellow celeb "1 percent"-ers have spoken out in support of the cause, including Kanye West, Miley Cyrus and Kim Kardashian.
Listen to the full rant here!