NEWS
Adam Lambert Tweets About Heading to Oprah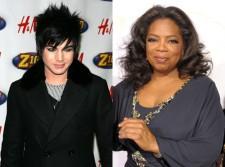 Adam Lambert turned to his Twitter page yesterday to fill fans in on some buzz that has been circulating. The American Idol alum confirmed that he his heading to the windy city to interview with Oprah Winfrey, but dismissed rumors that he would be guest starring on the Fox hit Glee.
"Glee guest star rumor: it's a rumor. Sorry guys," Adam Tweeted. "Oprah: def true!!! :) also taping 5 songs tommorow for AOL Sessions. :)"
Article continues below advertisement
He also filled fans in on his aspirations to guest star on some some hit TV shows.
"If I had to pick a show to guest star on I'd loooooooove to be on True Blood. Or Weeds.Oh yeah. I'd love to be on Gossip Girl too! Leighton is amazing. I should be blairs shopping buddy. Hahah"