NEWS
Adam Levine Poses Naked (Again) With Model Girlfriend Anne V on Russian 'Vogue'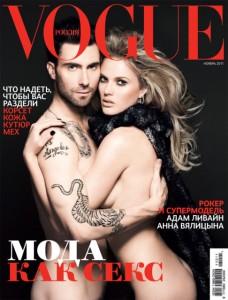 Adam Levine has no problem posing nude, but this time he isn't alone. The Maroon 5 frontman covers Russian Vogue with his girlfriend, Victoria's Secret model Anne Vyalitsyna — and the shoot is pretty racy.Back in January, Adam made waves when he posed in the buff for British GQ, with only a pair of lady's hands covering his man bits.
And he is at it again, joining his model galpal on the cover of Vogue Russia.
Article continues below advertisement
"So excited to finally be able to share this! @adamlevine thanks for being such great sport and sexy man!" Anne Tweeted of the shoot.
The risque photos show the hot couple all wrapped up in one another.
The couple seems very much in love, and it looks like Adam made his feelings indelible with a new tattoo — Anne's name across his knuckles, which he debuts in one of the photos from the shoot.
However, we aren't convinced that this ink is real.
Adam revealed earlier this week that Maroon 5 will be performing at the hotly-anticipated Victoria's Secret Fashion show this holiday season.
"If only the dorky pre-pubescent teenaged me could have told the future me that id someday play the #VSfashionshow (P.S. Im still dorky)" he Tweeted.
Catch some pics from Adam & Anne's shoot below. Are you a fan of the shoot?
*NOTE: In the second photo, a piece of Adam's torso seems to be missing on the left hand site — (as pointed out by Jezebel). What do you think? Bad photoshop job?