NEWS
Adam Levine Tweets War of Words with MTV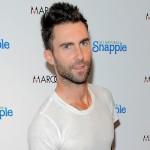 Amidst VMA excitement, not everyone was on board with MTV's annual awards ceremony. Adam Levine from Maroon 5 and The Voice aired his thoughts on Twitter on Saturday and dropped the F-bomb!
OK! NEWS: ADAM LEVINE — "I'VE BEEN SLUTTY IN MY LIFETIME"
On Saturday he tweeted, "the VMA's. one day a year when MTV pretends to still care about music. I'm drawing a line in the sand. f*ck you VMA's." He added, "still waiting to have my 'jerry macguire mission statement moment of deep regret...' not happening. phew!"
Article continues below advertisement
Then again on the day of the VMAs he tweeted, "I may be a pop singer. but every once in a while the angsty teenager in me just blurts out some raw honesty. it's a reflex."