NEWS
Adrien Brody's Very Public Display of Affection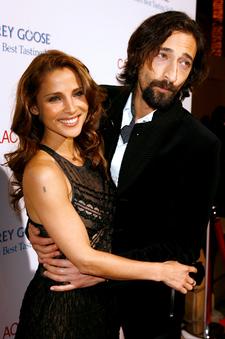 Call us cynical, or maybe just realistic, but it was easy to tell which star couple at recent party in New York had been married for a while, and which had still to tie the knot.
At the party after the premiere for her new movie Cadillac Records, Beyoncé sat with hubby Jay Z, on one side of the room -- about two feet apart -- cheerfully bopping along to the music and chatting with friends and family.
Article continues below advertisement
Meanwhile, on the other side of the room the movie's other star, Adrien Brody, was entangled with his fiance Elsa Pataky -- barely able to stop kissing long enough to acknowledge anyone else!
Adrien must have suffered a serious dead leg, because Elsa sat on his knee most of the night with her arms wrapped around him.
"When they weren't making out they were kissing each others noses or whispering in each others ears," said one slightly queasy party-goer. "It really seemed like Elsa was making the most of being with the star of the night!"
Joining them to celebrate the release of the movie, which follows the rise of the legendary Chess Records, were Leo DiCaprio and his buddy, Entourage's Kevin Connolly, as well as Russell Simmons -- who seemed rapt in conversation with Sports Illustrated model Marisa Miller.
Leo had called in to the shindig at Marquee after a screening of his own new release, Revolutionary Road and chatted to Kevin -- who flexed his star muscle, making the security turn a blind eye while he smoked a sneaky cigarette in the trendy club.