NEWS
Adrienne Bailon Dishes on Kim & Reggie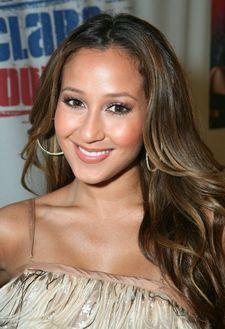 Cheetah Girl Adrienne Bailon has got the inside scoop on Kim Kardashian and boyfriend Reggie Bush. Bailon, who dates Kim's little brother, Rob Kardashian, caught up with OK! at Floyd's nightclub at the Seminole Hard Rock Hotel and Casino in Tampa, Florida, over Super Bowl weekend, where she revealed what the couples like to do on their down time from filming Keeping Up With The Kardashians.
"We go on double dates all the time," she tells OK!. "Our favorite spot is Casa Vega in the valley. We really like to chill on normal stuff. We used to play Rock Band over at Reggie's house all the time. Kim refuses to sing. I try to force her to be the lead singer but she says 'No, I just want to watch!'"
Article continues below advertisement
Bailon says she looks at Kim and Reggie's relationship as a model for her own.
"They're very considerate of one another," she says. "They're so sweet and nice to each other."
Reggie himself tells OK!, "It's true love. It's not a fake relationship or anything that's for publicity. We're really actually in love and we have a good time. We enjoy each other's company."
He also admits it wasn't necessarily Kim's physical assets that caught his eye in the beginning!
"I'll tell you that the thing I love most is that she can cook. Very good!" he says. "She's the first girl that's ever cooked a meal for me. I was already stunned by how beautiful she is, then she cooked for me... and it was done. You can't ask for much more."