NEWS
'Up in the Air' Already Rising to Award Victories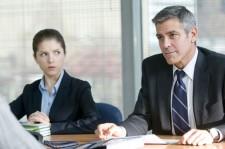 Looks like George Clooney may have a partner for his Oscar. The National Board of Review awarded George the Best Actor for his performance in Up in the Air, which nabbed the honor for Best Film of the Year. Last year's winner for best film, Slumdog Millionaire, went on to win numerous honors including the Oscar for Best Movie. Things are looking up for George's dramatic comedy!
Twilight starlet Anna Kendrick won the award for Best Supporting Actress, a fortuitous sign for a lucky award season.
Article continues below advertisement
Directed by Jason Reitman (Juno, Thank You for Smoking), Up in the Air is the story of Ryan Bingham (George), a corporate downsizer who travels to different companies firing people. After years of staying happily airborne, Ryan finds himself ready to make a real connection. The film will be released in select theaters on Dec. 4 and nationwide on Christmas Day.
Jason received the award for Best Adapted Screenplay with Sheldon Turner.
"The NBR is very proud to announce its honorees for 2009 – a year in which filmmakers' voices and visions were innovative, exciting and eclectic. We are thrilled to honor Jason Reitman's bittersweet and poignant film, Up in the Air, with wonderfully strong performances, writing and direction," says NBR President Annie Schulhof.
Gabourey Sidibe received Best Breakthrough Performance by an Actress and Clint Eastwood was awarded the honor for Best Director for Invictus.