NEWS
Alec Baldwin Creates Sheet Disguise to Throw Off Paparazzi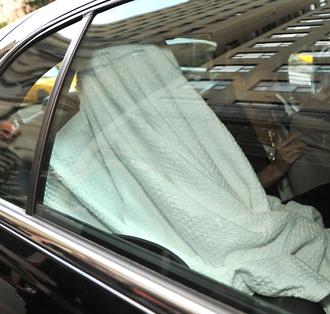 Yes, that's Alec Baldwin sitting in a car in New York City with what looks like a bed sheet thrown hastily over his head.
OK! NEWS: ALEC BALDWIN THROWN OFF AN AMERICAN AIRLINES FLIGHT
In Day Two of Alec vs. The Paparazzi, the 30 Rock actor employed a clever albeit billowy disguise to ensure... um.. his privacy?
Yesterday, he got into a scuffle with a photographer who snapped his picture outside the Marriage License Bureau in downtown Manhattan where he and fiancé Hilaria Thomas stopped by in anticipation of their June 30 wedding.
Article continues below advertisement
While Alec denies harming the shutterbug, the photog has filed an assault complaint saying the actor caused him a headache, dizziness and sore chin from a slug to the face.
"The guy lunged and almost hit me in the teeth with the lens of the camera," said Alec on an appearance on The Charlie Rose Show last night. "So I just pushed the guy away."
Meanwhile, the Rock of Ages actor has been surly and violent with reporters clustered outside his apartment. One Inside Edition reporter claims he shoved her and ran over her feet with his bicycle, while two Daily News reporters were hit by his handlebars.
OK! NEWS: STEPHEN BALDWIN SAYS HIS BROTHER ALEC IS GREAT
"15-20 cameramen outside my bldg this am, chasing me on my bike. They're knocking into ppl on the street, yelling 'Will you seek help, Alec?'" the actor tweeted this morning.
One follower replied: "Time to move to Montana, Utah or Idaho ... someplace where farmers are too busy to care about celebrities."
Perhaps that should be Alec's next move. Or he can continue with the sheets. His choice.