NEWS
Alex Trebek Shares Too Much Detail in Burglary Story on 'Today' — He Sleeps Naked!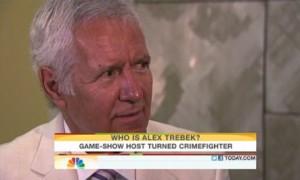 Alex Trebek sat down for an interview on the Today show this morning to share his account of how he woke up to a woman allegedly burglarizing his San Francisco home. But perhaps the most shocking part of Alex's detailed account was the part about him sleeping naked!
OK! NEWS: ALEX TREBEK, JEOPARDY HOST, CHASES HOTEL BURGLAR & PULLS TENDON
"I woke up and saw a figure in our hotel bedroom and I thought I was dreaming," Alex told Today. "I realized immediately that someone had been in the room, and I put on my underwear and ran down the hall to see if I could find her."
Article continues below advertisement
Not sure we all needed the "underwear" detail!
Alex continued to explain how he eventually found his alleged burglar, Lucinda Moyers, wandering around the San Francisco hotel.
"She came out of the middle room where the ice machine is, and I said, 'What were you doing in our room?' She said, 'I wasn't in your room.' So I said, 'What were you doing?' She said, 'I was visiting friends.' I said, 'No you weren't.' "
OK! NEWS: WATSON, IBM'S SUPER COMPUTER, GETS A BEATDOWN ON CONAN
Alex also chased Lucinda, but he says he "crashed to the ground. I managed to hobble back to the phone and inform security."
The Jeopardy host now has to have surgery on Friday after injuring his Achilles tendon.
After the interview aired, Matt Lauer and the rest of the Today show anchors joked about it. Regarding Alex's account of waking up and putting on his underwear, Matt asked aloud, "Alex Trebek sleeps in the nude?"