NEWS
Alexandra Chando Reveals "You're Going To Be Shocked" By Tonight's New 'The Lying Game'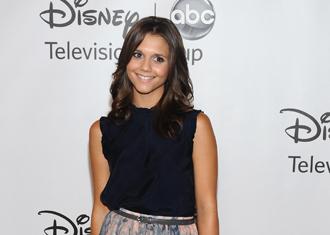 It's Monday night and you know what that means! A brand new episode of The Lying Game is here and OK! got star Alexandra Chando to give us a sneak peek of what to expect.
Tonight's new episode is called "Dead Man Talking" and it finds Ethan (Blair Redford) mixed up in a murder. Alexandra spilled to OK! that this episode is especially crazy. "It gets so crazy. It gets so nuts. It's wild. A lot of stuff with some of the other characters that we haven't really mentioned in awhile. They kind of come out of the woodwork. It's crazy, it's so crazy. You're going to be shocked."
Article continues below advertisement
Alexandra also spilled that out of playing twins Sutton and Emma, Sutton is a little bit more fun to play. "Yea, I think she's just more of a challenge for me because there are different situations that she's put in and I still have to keep it very Sutton but at the same time there are emotional things that happen. She's more of a challenge for me."
OK! NEWS: ALEXANDRA CHANDO TALKS TONIGHT'S NEW EPISODE OF THE LYING GAME!
She's also turning out to be quite the mean girl. "Yeah, it's kind of turning out that way isn't it?" Alexandra said. "Yes, it's super fun, super fun because a lot of people who play, you know, the bad guy or the bad girl in a movie, it's kind of like who they are. But for me I get to do both, I get to be the nice girl and the mean girl. So that's really fun."
The show is also continuing to get very high numbers and more viewers than ever before! Alexandra commented on this and told OK!, "I definitely.. I think personally that the episodes get better and better each week. The mystery gets more involved and more secrets are revealed so it gets, it grabs the audience a bit more."
Article continues below advertisement
Catch The Lying Game tonight at 9 p.m. ET on ABC Family and look back for more scoop next Monday!