NEWS
Ali Fedotowsky & Roberto Martinez "Excited" to Move into San Diego Pad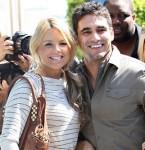 After getting engaged on national television, The Bachelorette couple Ali Fedotowsky and Roberto Martinez aren't wasting any time before moving in together, but this time they're doing it off-camera.
However, Ali couldn't resist telling the world about life in San Diego with her fiancé, Tweeting: "All moved into our place in San Diego — minus the furniture. So excited to decorate our home together!!!"
Article continues below advertisement
He also reached out to Trista Sutter, who's happily married to her Bachelorette suitor Ryan, telling them: "I couldn't be happier. We are so blessed. You and Ryan have paved the way. Best wishes to you and your family!"
Ali spread the love toward Chris Harrison telling him, "Just wanted to thank you for everything this past season. I owe you big time."