NEWS
Ali & Roberto Talk Engagement: "We Are Just Two People in Love"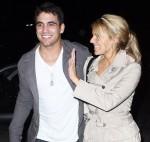 Despite being engaged for three months, it's only now that Ali Fedotowsky can step out with her fiancé Roberto Martinez and show off her $50,000 Neil Lane engagement ring.
"He did a perfect job picking it," Ali tells Entertainment Tonight. "It is so me: classy, simple. I can dress it up, but I can wear it with my sneakers and jeans."
OK! GALLERY: ALI FEDOTOWSKY SHOWS OFF HER MAN
Meanwhile, Ali can barely remember the moment Roberto dropped to his knee to pop the question because she was in the grip of an adrenaline rush, although she's thankful to have the tape of their big moment.
Article continues below advertisement
"When I was with him on the show, the cameras never even existed," she says. "They were never there in my mind. When we watched it back, we watched in 10 times in a row. I was crying every single time."
OK! NEWS: BACHELORETTE ALI FEDOTOWSKY MAKES HER CHOICE
Unlike Jake Pavelka and Vienna Girardi, the lovers aren't planning on making Hollywood their home. They are heading to San Diego, where Roberto has already relocated from Charleston.
"She has some stuff there," Roberto says. "I wake up every morning and I see her clothes, and I am, 'Oh.' I am excited to get her down there."
OK! NEWS: ALI FEDOTOWSKY OPENS UP TO RYAN SEACREST ON FINALE
And Ali adds that that will be "soonest."
Despite starting a low key life together, they're not averse to tying the knot in a televised ceremony.
Article continues below advertisement
"My very first reaction to that and I think his, too, was we want that to be private. But then we thought, 'We could have this moment on TV and ABC will take care of it'," says Ali.
"We will save $50,000 by doing that. We could invest that in our kids and our home where that money will really make a difference in our lives.' Why not?'"
OK! EXCLUSIVE: ALI FEDOTOWSKY DISHES ON HER CULINARY TRICKS FOR A BETTER BOD
How do they plan to avoid the same fate as Jake and Vienna? "We were together the weekend that their breakup interview aired," Ali says. "We never want to be in that position. We hope to never let it get there.
"It was sad to watch. It was hard for us to watch because we are so much in love. I don't want to compare us to other people. We are just two people in love."