NEWS
Alice Cooper, Neil Diamond Newest Members of Rock & Roll Hall of Fame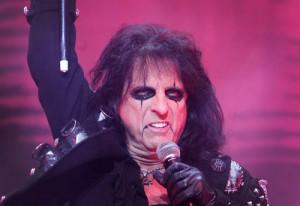 The Rock and Roll Hall of Fame will be getting a touch of goth/glam superstardom as singer Alice Cooper will be one of the 2011 inductees! The ceremony is set to take place on March 14, 2011, at the Waldor Astoria hotel in NYC and along with Alice, Neil Diamond, Dr. John and Tom Waits will also be honored.
Nominees who didn't make this year's cut include Beastie Boys, LL Cool J, Bon Jovi and veteran acts J. Geils Band, Donna Summer and Chic.
Article continues below advertisement
Alice told Billboard, via MTV, that the nod was well-deserved for his band.
OK! NEWS: ROCK AND ROLL HALL OF FAME 2010 BALLOT RELEASED
"I've always felt the same way about this whole thing," the 62-year-old rocker said, whose classic hits includes "I'm Eighteen" and "School's Out." "I kind of sat back and said, 'It will happen eventually.' "
Neil, 69, told Rolling Stone he was humbled by the honor.
"I think it's great. I'm happy that they recognized me and my work," he said. "Any club that has Chuck Berry and Little Richard and the Everly Brothers is a club that I want to be a part of."
OK! NEWS: THE TOXIC TWINS TAKE DOWN RUMORS
Neil's hits include "Cherry, Cherry," "Sweet Caroline" and "Song Sung Blue."
Top be considered for induction, artists must have 25 years in the industry after the release of their first single or album.