NEWS
The Toxic Twins Take Down Rumors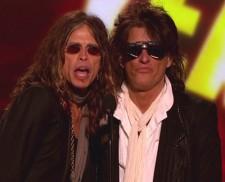 Steven Tyler and Joe Perry made a surprise appearance last night at the Fillmore in NYC, announcing to the crowd that Steven will not resign his role as Aerosmith frontman. "I just want New York to know I'm not leaving Aerosmith and Joe Perry, you are a man of many colors, but I, motherf--ker, am a rainbow!" Steven told the crowd before launching into Aerosmith classic, "Walk This Way."
Rumors began circulating about Steven's departure from the Rock & Roll Hall of Fame band, after Joe Tweeted, "Read on line st left band to do "brand Tyler"? That's all I know but like I've said hasn't called me in months.a bit cold forget us 4 guys."
Article continues below advertisement
Joe's Tweet on Nov. 9 followed an interview he gave last week about 61-year-old Steven's disappearance.
"Steven quit as far as I can tell," Joe, 59, told the Las Vegas Sun, Nov. 6. "I don't know anymore than you do about it. I got off the plane two nights ago. I saw online that Steven said that he was going to leave the band. I don't know for how long, indefinitely or whatever. Other than that, I don't know."

Earlier this year, Steven checked himself into a rehab facility after a series of surgeries and post-operative physical therapy to correct chronic foot injuries resulting from years of performing on stage.
He assured fans, "Make no mistake, Aerosmith has no plans to stop rocking. There's a new album to record, then another tour."