NEWS
Alicia Keys Opens Up on Her Impending Due Date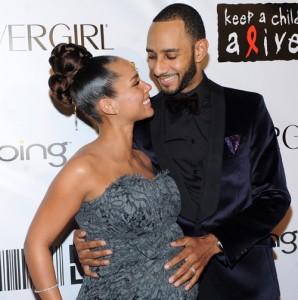 Newlywed Alicia Keys — who tied the knot with rapper Swizz Beatz in August — is due to be a mommy next month, and she can't wait! She spoke to OK! at last night's Keep A Child Alive's Black Ball in NYC, with her happy hubby by her side. "Zen, zen, zen!" laughed Alicia when we asked how she's staying calm before the big day.
It wasn't just the glow of love and impending motherhood that had Alicia so ecstatic, as she explained how Buy Life technology — which features bar codes on ads starring celebs like Alicia, that can be scanned in by smartphones to streamline the giving process — is changing the charity scene.
Article continues below advertisement
"Keep A Child Alive is all about providing the medicine for children and families who have AIDS and can't afford it. To be able to buy life, you're literally saving a life," Alicia told reporters. "So you go to the store and you get like your juice and your chicken and your cereal and you scan it and you pay for it. Now you scan this shirt and you're part of changing the world."
And Alicia is planning on passing on that spirit of charity to her baby, too!
"The baby is going to see everything that I do, and that we do, and I think that being a giving individual and being a person that knows we can all do something. It doesn't necessarily need to be the biggest thing that ever happened," explained Alicia. " That's okay. Something small and little, reaching out to one person in the world is changing that one person in the world and that's a big deal. I plan to show that in every way."
Article continues below advertisement
Swizz Beatz, who is already a dad to three kids, is looking forward to being a father of four.
"I'm good! I'm happy she's glowing. She's always glowing though," he told OK! of his wife. "She helps me glow so that's an amazing thing."
OK! NEWS: SWIZZ BEATZ ON WEDDING — "IT'S NOT THIS WEEKEND, BUT IT'S SOON!"
And his kids are pumped to be a big brother and sister again!
"They're all happy. They're all happy."
Last night's event — also attended by Usher, Janelle Monae, Whitney Houston, Uma Thurman, Jane Krakowski, Deepak Chopra and more — raised $2.4 million for lifesaving AIDS treatment, care and support to children and families affected by HIV/AIDS in Africa and India.
OK! GALLERY: MEMORABLE PERFORMANCES AT THE 2010 BET AWARDS
Reporting by Laura Lane